Teacher Scholar
Meet Tracy Baker, a candidate in our Master of Education in Special Education Program. Here is all about Tracy in her own words.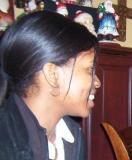 I was born and raised in Chicago, Illinois. I graduated from WesternMichiganUniversity and earned a Bachelor's of Science Psychology along with a Certification in Nonprofit Management. During my undergraduate tenure I served as a Behavioral Technician at CroydenAvenueSchool. I worked with children diagnosed with Autism. It was my job to provide one-to-one discrete trial instruction, to establish instructional control, and to develop pre-learning-skills necessary for success in future learning environments. In addition to this position, I volunteered with numerous organizations in order to fight poverty, homelessness, breast cancer and to promote literacy. Finally, because I was interested in possibly teaching, I decided to serve as a Teacher's Assistant for a general psychology course in order to gain a greater understand of the roles and responsibilities of a Professor.
My interest in the field of education rapidly grew as my knowledge of the academic inequities and racial disparities developed. During my senior year in college I was introduced to Teach For America which is an organization dedicated to improving the educational outcomes for racial minorities. I applied and was accepted into the program. Once accepted to the program I was told to rank my preferences for placement. The Mississippi Delta was my number one choice. I wanted to be a blessing to students who needed it most. I also indicated that I wanted to be placed in a Special Education setting.
For too long special education students have been sent messages from countless sources that tell them they don't count, they have no voice, no power, and no future. Fortunately, that's a lie! Unfortunately, many students have accepted it as the truth. I was compelled to work in a special education setting because I knew that it would afford me the opportunity to expose the lies and teach the truths.
Currently, I am teaching in Leland, MS at Leland High School. I work in the Special Education Department teaching Employment English I, II, III, and IV. Working in the Delta has been a tremendous challenge filled with priceless life lessons and a host of heart-warming experiences. Despite the challenges I've encountered I continue to persevere and at the completion of my first year of teaching I was recognized as Teacher of the Year. I am also very active in my church and community. I currently serve as the Youth Chair for the Washington County NAACP and during the summer of 2006 I developed and facilitated a summer tutoring program known as PUSH (Practice Until you Score Higher). I love what I do and I want to do what I do even better.

This desire alone has been the fuel in my pursuit of a Master's Degree in Special Education at Delta State University. The knowledge and skills that I am gaining from Delta State University serve as invaluable tools that I use each and everyday in my classroom in order to improve the educational outcomes for my students.
Favorite Quote: Don't ask God to give you good students; ask instead that he will give you students who will see His goodness in you. Author Unknown
Personal Quote: It has often been said that what you don't know can't hurt you; however, I'd argue that "What you don't know can hurt you…" in fact it is what our students don't know that is slowly eradicating their futures.