Dr. Vicki Hartley
Vicki Jean Hartley, Ed.D.
Coordinator of Special Education Programs
Associate Professor of Special Education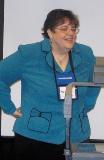 Dr. Hartley received her Doctor of Education and Master of Education degrees in mild/moderate disabilities from the University of Southern Mississippi. She completed a Bachelor of Science in Education with an emphasis in mental retardation from Georgia Southern College.
Dr. Hartley began her career as a teacher of children with mild disabilities with one year on the elementary level in Waycross, Georgia. This was followed by four years teaching at junior high level and four years at the high school level, both in Alexander City, Alabama. While working on graduate studies at USM, she was an assistant on two research grants training teachers of children with severe disabilities.
She began her college teaching career with 3 years at Livingston University (now the University of West Alabama). She has been on the faculty of Delta State University since 1991.
Scholarly interests: Behavior management, reflective teaching, inclusion
Ask her about: her cats and her crafts
Courses Taught:
CSP 616 Behavioral Management
CSP 383 Study of Mental Retardation
CSP 346 Classroom Behavior Management
CSP 385 Study of Emotional Disabilities
CSP 643 Programming For Individuals With Mild/Moderate Exceptional Learning Needs
CSP 547 Internship in Special Education
CSP 348. Collaborative Partnerships in Special Education
CSP 550 Programming for Individuals with Severe/Multiple Disabilities
Professional Memberships
CEC: Council for Exceptional Children
ACRES: American Council on Rural Special Education
Favorite Links:
National Dissemination Center for Children with Disabilities
Dr. Mac's Amazing Behavior Management Page
CECP: Center for Effective Collaboration and Practice