Dr. Joe Garrison
Ronald J. Garrison, Ph.D.
Professor of Elementary Education and Coordinator of Graduate Studies
in Elementary Education and Reading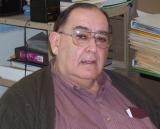 Dr. Joe Garrison is the senior faculty member in the Division of Teacher Education in the College of Education. He has been a valued faculty member at Delta State University for 32 years.
Dr. Garrison began his professional career in West Virginia, with a B.A.E from Fairmont State College and an M.A. at Marshall University, and five years teaching in West Virginia public schools. He completed his professional preparation with a PH.D. in Elementary Education from the University of Alabama. He taught five years at Huron College in South Dakota and five years at Berea College in Kentucky before joining Delta State University in 1975.
As coordinator, Dr. Garrison provides leadership in all aspects of graduate programs in Elementary Education. He also advises undergraduate students and teaches a variety of courses at both graduate and undergraduate levels.
Scholarly interests: Classroom management, creativity, and middle level education.