Academics
Master of Arts in Teaching
---
Master of Arts
The alternate route program takes approximately 13 months to complete and leads to a master's degree in teaching and Mississippi AA licensure.
The program runs from summer to summer and has two emphasis areas available, elementary education and secondary education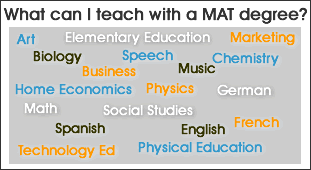 The MAT program is designed for those without a teaching degree who want to become teachers.
Applications will be accepted February 1 through April 30 (must include passing Praxis scores).
Minimum Admission Requirements (required by the Mississippi Department of Education)
bachelor's degree from a regionally/nationally accredited institution
passing score on both the Praxis I and II
Additional Requirements
minimum undergraduate GPA of 2.75 overall OR on the last 60 hours of coursework
obtain admission to Delta State's Graduate School
submit the MAT Portfolio to the coordinator, which includes three reference letters and an essay
secure a teaching position for the fall and spring semesters, matching the Praxis II content area passed
There are two programs of study to choose from, elementary track (33 hours) and secondary track (30 hours). Both provide specialized knowledge for teaching areas.
Praxis Test
Praxis scores will be used for admission into the program. The Praxis may also be taken/passed to teach a content area for which a degree was not earned.
List of Approved Praxis II Exams for MAT (Revised August 2010)
Subject — Praxis II Test Code
Art — 0133
Biology — 0235
Business — 0101
Chemistry — 0245
Elementary Education (4-8) — 0014
English — 0041
French — 0174
German 0183
Home Economics 0120
Marketing — 0560
Math — 0061
Music — 0113
Physical Education — 0091
Physics — 0265
Social Studies — 0081
Spanish — 0195
Speech Communications — 0220
These resources provide further information on the Praxis exams:
Why is the GPA so important?
It is one indication of content knowledge.
How many hours does the MAT program require?
Secondary Track