---
WHAT IS MISSISSIPPITOPIA:
MISSISSIPPITOPIA is the largest outdoor recreation education workshop/symposium in the State of Mississippi and a 'First for Mississippi.' The 3-Day weekend workshop/conference-style event is scheduled for April 20-22 2018, at Choctaw Lake  Recreation Area in Ackerman, Mississippi.

The goal is to Educate, Advocate, and Connect students, professionals, and outdoor recreation enthusiasts with others in the State of Mississippi who value and support outdoor recreation opportunities and education.

Our goal is to: (1) support and develop outreach and educational programs to promote outdoor recreation opportunities within all educational landscapes (K-12 education, parks & recreation, health & wellness agencies, campus recreation and student life divisions, and educational divisions at colleges/universities). (2) positively impact the youth obesity and the physical inactivity epidemic plaguing our state through numerous hands-on skill building activities and workshops that enhance outdoor recreation/education knowledge to connect education with recreational pursuits available in Mississippi.  (3) connect educators and recreation leaders from across the State of Mississippi to learn about the opportunities and needs in Mississippi and build relationships with key professionals in the fields of recreation, education, parks, environmental science, and other stakeholders in outdoor recreation education.  Below are some pictures of 2017 Mississippitopia.
| | |
| --- | --- |
| | |
2017 Topics and workshops:  2018 TBA (CLICK HERE TO SUBMIT YOUR 2018 TOPIC PRESENTATION PROPOSAL)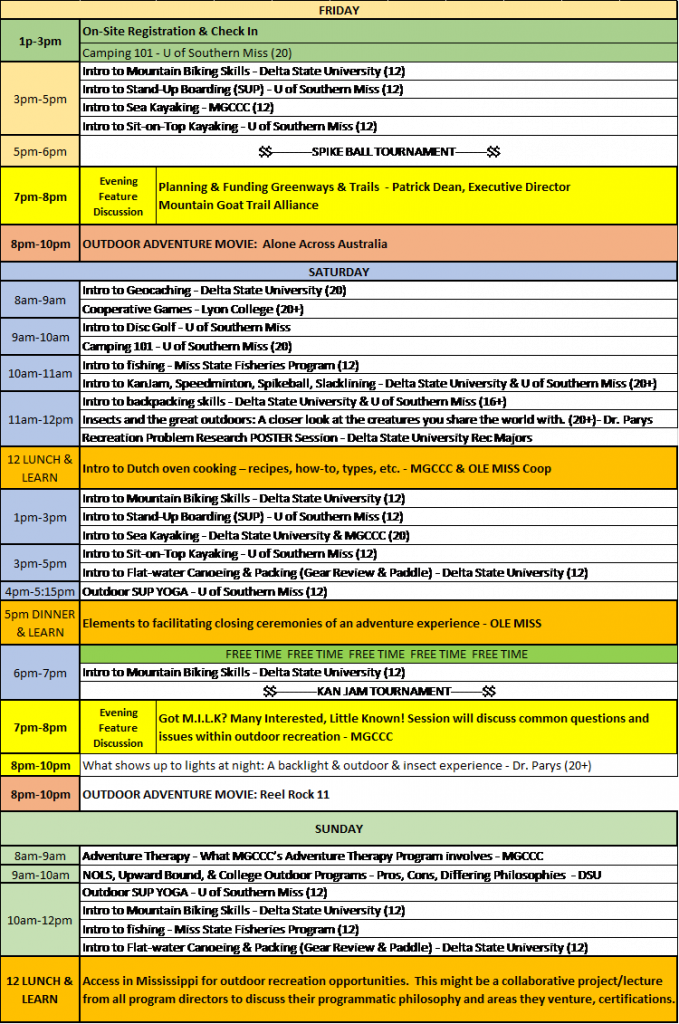 WHY MISSISSIPPITOPIA?
The American College Health Association's National College Health Assessment (2013) estimates over 30 percent of college students are overweight or obese.  Of those students reported, only 24.9 percent admit to participating in organized club or intramural/recreational sports (ACHA-NCHA, 2013). Additionally, the Center for Disease Control's Heath in the United States report (2011) indicated 55.2 percent of 18-year-old and older adults did not meet federal physical activity guidelines [reporting 0, or no activity during leisure time].  Although some research has been compiled to assess adult and youth (K-12) obesity and physical activity levels in Mississippi (Mississippi Department of Education's Office of Healthy Schools, 2010; Mississippi Department of Health, 2012), little attention has focused on the traditional college-age adults (18-24-year-olds) concerning physical activity levels, participation in physical fitness regimen, and/or presence of outdoor recreation programming participation as leisure-time physical activity.
There is much research indicating that college-age students are among some of the unhealthiest and unfit because of a lack of positive lifestyle physical activity choices (Huang et. al., 2003; Gropper et. al., 2009; Strout, 2007).  Consequently, outdoor recreation and leisure-time physical activity choices have been examined and found to be an important aspect of college/university programming for formulating healthy and active behaviors.  From recruiting strategies, to health and wellness initiatives, to retention-related issues, participation in recreation and leisure activities on university campuses, specifically campus recreation activities, improves college students' overall health and wellness (Watson, Ayers, Zizzi, & Naoi, 2006), increases participation in physical activity and leisure-time physical activity choices (Kilpatrick, Hebert, & Bartholomew, 2005), and assists in preventing depression and anxiety-related problems caused by college-related pressures (Camacho, Roberts, Lazarus, Kaplan, & Cohen, 1991).
Further research indicates that those who participate in outdoor or nature/wilderness-related experiences/activities value physical activity more and participate in healthy and active lifestyles more often (Clements, 2004; Moore, 1997; Louv, 2008; Pretty, Peacock, Sellens, & Griffin, 2005).  With the health of Mississippi youth and adolescents dwindling, it is important to provide opportunities for students to participate in, and have adequate availability to, outdoor recreation and leisure-time physical activity programming which focuses on education, empowerment, and skill acquisition through broad and expansive opportunities.
MISSISSIPPITOPIA will enhance and strengthen partnerships among Mississippi college and university outdoor recreation education programs and provide hands-on opportunities for numerous K-12 educators, future health and wellness professionals, and college-age students and adults interested in lifelong recreational activities in Mississippi.
---
WHO IS INVITED TO MISSISSIPPITOPIA?
With invitations to all state professionals in K-12 physical education, college/university health, physical education, recreation, sport management, and wellness divisions, and those operating summer outdoor camps and outdoor education programs, we hope to foster outdoor recreation change-agents who will become leaders in promoting and creating opportunities in outdoor recreation pursuits in their areas.  Those involved in:
the National Intramural/Recreational Sports Association (NIRSA) Mississippi chapter;
the Mississippi Recreation and Parks Association (MRPA);
the Mississippi Alliance for Health, Physical Education, Recreation, and Dance (MAHPERD);
the Association for Outdoor Recreation Education (AORE); and
promote outdoor recreation education to all Mississippi organizations and affiliates who promote wellness and recreational programming through education.
---
WHERE IS  MISSISSIPPITOPIA?
MISSISSIPPITOPIA will be at Choctaw Lake Recreation Area in Ackerman, Mississippi.  Ackerman is southwest of Starkville, Mississippi and east of Greenwood, Mississippi off HWY 82.  Once in Ackerman, follow HWY 15 south and find the USFS access on your left.  Drive through forest until you find a pay station and access into the campground area.  Turn left and follow road into the campground. Mississippitopia will be at the end of this road.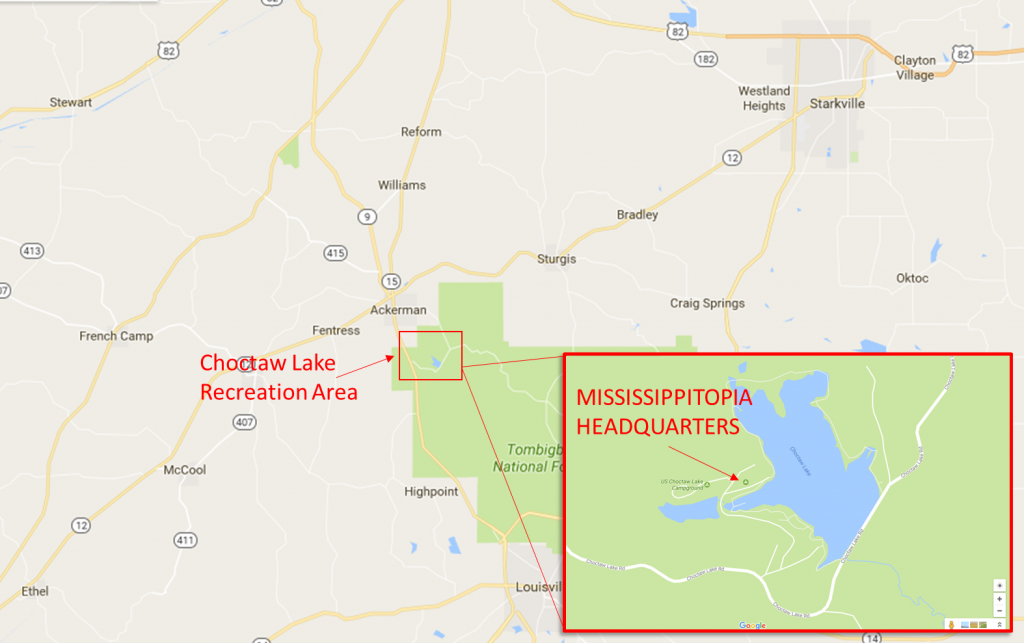 ---
REGISTER FOR MISSISSIPPITOPIA
-CLICK HERE FOR ONLINE REGISTRATION (CHECK) PAYMENT OPTIONS
-CLICK HERE FOR PAPER REGISTRATION (CHECK) (CASH) PAYMENT OPTIONS
– GO HERE for online and credit card options.
---
PRESENT AT MISSISSIPPITOPIA
Have a great idea or a topic in the recreation or outdoor education field, then considering sharing and presenting at the 2018 Mississippitopia.
CLICK HERE TO PRESENT YOUR IDEA/WORKSHOP/ACTIVITY/SKILL/INFORMATION AT MISSISSIPPITOPIA
Applications will be reviewed and you will be contacted by March 30, 2018, at the latest, concerning your proposal.
---
LOGISTICS
Camping:
Camper/trailer camping is limited to first reserve, but is available and is included in your registration fee. Contact tdavis@deltastate.edu
Tent camping is included in your registration fee.  There is site camping with access to restrooms/showers on site.
Primitive camping is also available only 5 miles away from headquarters, also included in your registration fee.
Hotel Lodging:  lodging options in Louisville, Miss.
Quality Inn – 201 Highway 15 North, Louisville, MS 39339 – (662) 773-9090
Village Inn  Motel – 417 N Church Ave, Louisville, MS 39339 – (662) 773-8031
Lake Tiak-O-Khata – 213 Smyth Lake Rd, Louisville, MS 39339 – (662) 773-7853
Information:
Todd Davis, Dave Heflin Professorship for Recreation Leadership & Outdoor Education
Delta State University | tdavis@deltastate.edu | 662.402.2050