Delta Health Alliance

The Delta Health was founded in 2001 to support community-based healthcare initiatives that would target critical health and wellness in the Mississippi Delta.
DHA functions by coordinating the delivery of healthcare programs communities can access, providing targeted education and training to facilitate consistency across providers, and facilitating translational research to replicate evidence-based healthcare programs that work. In order to create successful communities across the Delta, DHA works closely with its partner organizations to increase adult literacy, enforce ear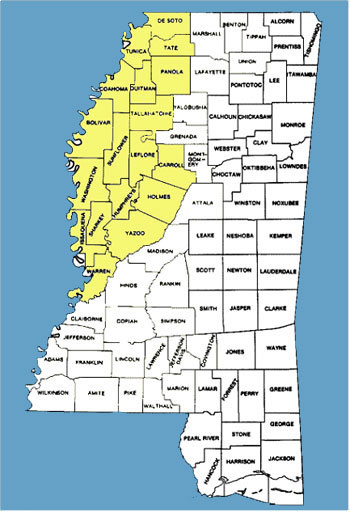 ly childhood interventions, provide appropriate healthcare, and enhance workforce development.
Mission Statement
The mission of the Delta Health Alliance is to advocate, develop, and implement collaborative programs to improve the health of citizens in the Delta. The Alliance provides direct support for collaborative projects that: increase access and availability of health care in the Delta; conduct and apply research on health problems and issues to reduce ill health among Delta residents; or offer health education programs that encourage and enable Delta residents to adopt good health practices.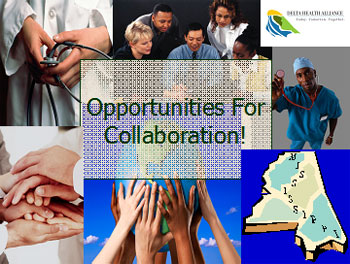 DSU Delta Project Overview
April 12, 2010 – Differentiated Instruction Workshop 1:30 to 3:30 p.m. Ewing Hall, Room 227 Brenda Ellis, Cleveland School District, Presenter
April 8, 2010 Leadership Celebration 5:00 p.m. Jacob Conference Center, Ewing Hall , DSU Former Governor William Winter, Keynote Speaker
March 9 – Teacher Shortage Program Beginning Teacher Professional Development session on Classroom Management and Motivating Reluctant Learners.Time: 8:30 – 3:30 p.m. Location: Jacob Center, Ewing Hall, DSU
Contact: Cheryl Cummins (ccummins@deltastate.edu)
March 9 – Building Literacy Skills Workshop presented by Charlotte Hargett.Training for Literacy Enhancement Clinic tutors and Delta area teachers.Time: 8:00 a.m. to 3:00 p.m. Location: Ewing Hall Room 225
Contact: Corlis Snow (csnow@deltastate.edu)
February 8, 9, 10 – Delta State COE will host The Delta School Health Leadership Institute for cohort members, DSU faculty and area schools' health councils and administrators. February 8th and 9th will be focused on providing School Health Councils with an overview of the components and implementation of the Coordinated School Health Program in K-12 schools. The February 10th session will be focused on district and school leaders and their roles in implementing CSHP and developing healthy schools and healthy students. The training will be held in the Jacob Center, Ewing Hall, from 9:00 a.m. to 4:00 p.m. A continental breakfast will be served at 8:30 during registration. Registration is being completed through DAAIS.