To provide credit and debt management training and repair services to current and potential microentrepreneurs located in Bolivar, Washington, Sunflower, and Coahoma counties.


To help business owners to help themselves . . . "Ultimately aiding the Mississippi Delta in becoming more economically viable."


Entrepreneurs will gain valuable training and technical assistance that will aid in increasing their profit margins and, in many cases, remaining as sustainable business entities.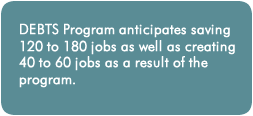 This project is funded through the United States Department of Agriculture (USDA). The DEBTS Program is funded by the USDA Rural Business Enterprise Grant. This is the second year for the $250,000 USDA Grant.