Jazz Ensemble
Fall 2015 audition information
All participants must audition, including returning band members.
Improvisation and previous jazz experience are not required.
Saxophonists should audition on whichever saxophone (alto/tenor/baritone) they own and are most comfortable with; parts will be assigned.
All instruments (other than drums) may optionally prepare the improvisation portion if they wish to be considered for improvised solos for performances. Improvisation is not required for participation in the band.
The "No More Mr. Nice Guy" recording may be used for reference in practicing the prepared piece.
To schedule an audition, please contact Dr. Pimentel at (662) 846-4608 or bpimentel@deltastate.edu. Auditions will be held Monday, August 17 (the first day of classes) 2:00-2:50pm in Zeigel Hall room 150, or by appointment during the first week of classes.
Audition materials
For all instrumentalists:
For individual instruments:
Baritone saxophone (please audition on alto or tenor)
If you have any questions, contact Dr. Pimentel at (662) 846-4608 or bpimentel@deltastate.edu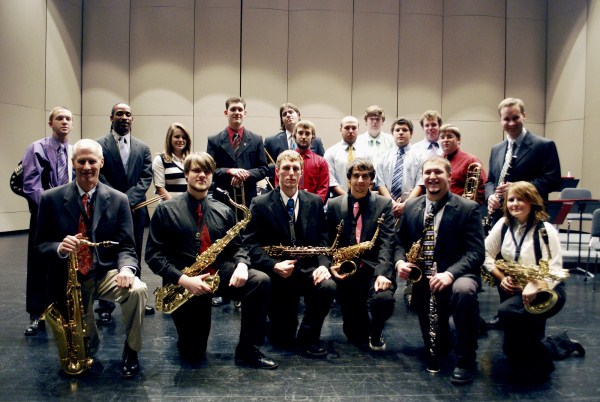 The DSU Jazz Ensemble is a "big band" made up of music majors and non-music majors selected by competitive audition. The band is known in the community for its annual Big Band Bash fundraiser, an evening of dining, dancing, and classic Swing Era music.
Big band jazz is characterized by tightly coordinated, high-energy playing from a large horn section made up of trumpets, trombones, and saxophones, working in partnership with a powerful, driving rhythm section of keyboards, bass, and drums. Individual group members often perform solos that are "improvised"—composed spontaneously in live performance.
The DSU Jazz Ensemble's repertoire includes favorites from the Swing Era of the 1930's and 1940's as well as more contemporary jazz styles from the 1950's to the present.