The Art of the Piano: Guest Artist
Dr. Michael Caldwell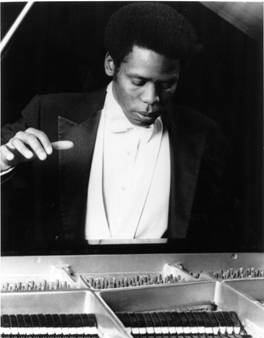 Dr. Michael Caldwell is a concert pianist, respected music educator, arts administrator and arts advocate who currently serves as Professor of Music and Director of the Performing and Visual Arts Division in the Farquhar College of Arts and Sciences at Nova Southeastern University. A gifted musician, the critics have praised his warm musicality, professional integrity and formidable technique. He has established an international reputation as a "vibrant pianist who radiates the enthusiasm he feels about his art and life through thoughtful, focused, warm and exciting performances".
Michael Caldwell's musical career began at the age of ten, when he played from memory a Mozart minuet he had heard for the first time minutes earlier. By age seventeen he had won three competitions, attended the North Carolina Governor's School for the Gifted and successfully auditioned to be one of the first five students worldwide to study privately with Vladimir Ashkenazy at the inaugural 1967 London Symphony Orchestra International Festival.
The 1976 Grand Prize Winner of the G.B. Dealey Competition, Caldwell was selected the same year by Musical America/High Fidelity publications as a Bicentennial National Young Artist. His subsequent debut as piano soloist with Maestro Kazzimierz Kord and the Dallas Symphony Orchestra was highly acclaimed, with Olin Chism of the Dallas Time Herald applauding his "big tone…volleying chords and rapid finger work…" while John Ardoin of the Dallas Morning News commended the "vitality, clarity and purpose to all he did…"and his "winning manner on stage."
In 1984, he gave the world premiere of George Rochberg's Short Sonatas for Piano in Rome, Italy. The same year, following a concert at Villa Pignatelli in Naples, Italy, Caldwell was paid the ultimate compliment, when leading music critic Massimo Iannone said that he played with a "musicality, I daresay Italian, executing scales and octaves of a truly remarkable cleanliness and sonority".
A 1990 Pianist Foundation of America "Pianist of the Year", Caldwell is best known for his appearances in concert on four continents as a United States Artistic Ambassador to countries in South America, Europe, the Middle and Near East and Africa, under the auspices of the US Information Agency, in a position created by President Ronald Reagan. In 1995, he was a William Grant Still National Symposium Fellow, a panelist for the National Endowment for the Arts American Music Recording Project and National Committee Chair for Diversity for the College Music Society through 1997.In 1999, he was one of three pianists selected to perform at the Ivan Davis Tribute at Festival Miami. In 2004, Dr. Caldwell made his 21st century debut in South Florida with a multi-media update of the piano recital, "Music of Magic, Mystery and Romance" in Ralph R. Bailey Concert Hall, where he returned in 2007 to appear as piano soloist with The Broward Symphony Orchestra in a performance of Ludwig van Beethoven's "Emperor" Concerto. In 2009 he presented a Companion Lecture/Recital to the NSU Distinguished Speaker Series entitled "In Search of the Funeral March Codes: Exploring the Possibility of Implied Hidden Themes of Life, Love and Death in Frederic Chopin's Sonata in B-flat minor, Op. 35".In 2010 he appeared as piano soloist with the Ars Flores Symphony in performances of George Gershwin's Rhapsody in Blue at the Miramar Cultural Center and the Colony Theatre on Miami Beach. In 2012 he performed a solo piano recital for the Circle of Friends 10th Anniversary at the Sherman Library in Davie, Florida.
A master teacher as well as performer, Dr. Caldwell has served on the faculties of institutions of higher learning in Florida, Virginia, Pennsylvania and North Carolina. He received his Bachelor's and Master's of Music degrees from the University of Miami in Florida, and his Doctor of Musical arts degree and highest graduate honors from the University of Arizona at Tucson. His esteemed teachers include Hildred Roach, Guido Agosti, Vladimir Ashkenazy, Ivan Davis, Fernando Laires, Ozan Marsh, Stewart Gordon and Bela Nagy.
Dr. Caldwell's civic experience has included symphony orchestra, cultural theatre, music academy and library board memberships in New Mexico, North Carolina and Tennessee. Caldwell's extra-musical adventures include working as a CBS-TV news reporter and creating and hosting cultural radio and television programs in Virginia, Pennsylvania and Tennessee. He currently serves as a board member of Business for the Arts, Ft. Lauderdale, Florida.