The Delta State University Department of Music proudly presents the 6th annual 
The Art of the Piano 2015
With featured guest artist Dr. Reid Alexander
Mission
The mission of The Art of the Piano is to bring pianists together to explore the art of playing the piano. From beginners through career musicians, all are welcome.
Meant to inspire and inform, this event is open to all piano students and teachers. It will be a day of recitals, master classes, and workshops for piano students of all ages and teachers. Session topics will include solo performance, collaborative piano, and musicianship skills. The event will feature performances by students, teachers, DSU Faculty, and the Guest Artist. The public is invited to attend the recitals and master classes.
Guest Artist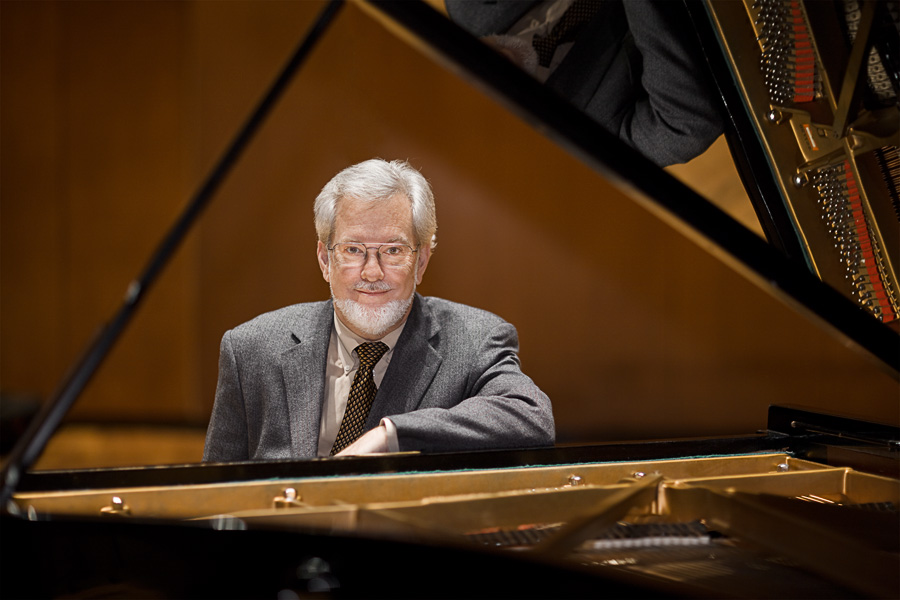 Reid Alexander, Professor of Music (piano and piano pedagogy) at the University of Illinois at Urbana-Champaign, USA, is internationally known as an accomplished pianist, inspiring teacher and mentor, and widely published author. After making his orchestral debut with the Fort Lauderdale (FL) Symphony Orchestra at the age of 16 under the baton of conductor, Emerson Buckley, Dr. Alexander's piano study continued with the Arthur Loesser student, Gerald Snyder, and later the well-known Artur Schnabel student, Stanley Fletcher. Additional coaching has occurred with major artists such as Ruth Slenczynska, and Mieczyslaw Horszowski. As a finalist in the first Gina Bachauer International Piano Competition, his many credits include recitals, presentations, and master classes in over 45 states and Canadian provinces and in several countries abroad.
Professor Alexander recently returned from his fourth trip to Korea and Taiwan where he gave guest lectures, recitals and master classes at Tainan Technology University (Taiwan), Yonsei University, Sookmyung University, Sangmyung University, Ewha Women's University, and Hansei University where he was the Keynote Speaker and featured recitalist-clinician for the annual meeting of that country's prestigious Korean Association of Piano Pedagogy. In January 2014 Alexander journeyed again to Taiwan to serve as jury member for the Taiwan-Asia International Piano Competition. This year he is engaged to perform at Segerstrom Concert Hall in Los Angeles and the Seoul Arts Center in Korea.
As a doctoral graduate of Vanderbilt University and a long established author for Frederick Harris Music (Toronto) and Stipes Publishing (US), the past decade has seen the release of the highly regarded volumes of the Celebrate Composer Series (Harris), approximately 2,700 pages of solo piano music with supporting study notes and commentary in 27 volumes, multiple editions of the Celebration Series Handbook for Teachers (also Harris), and the 10th edition of Keyboard Musicianship, volumes I-II (Stipes). The new fifth edition of the standard bibliographic resource on piano teaching literature, Piano Repertoire Guide: Intermediate and Advanced Literature (Stipes) was premiered March 2011 at the annual convention of the Music Teachers National Association (MTNA) and is presently being translated into Korean for future release in 2015 by Sekwang Music Publishing in Seoul.
 Earlier in his career, the University of Illinois honored Professor Alexander as a faculty recipient of an all-campus award for teaching excellence, recognizing his teaching versatility with pianists of all ages. Each academic year he works with a stellar class of talented international and domestic pianists on the Urbana campus and in the summer supervises the highly respected pre-collegiate piano camps for Illinois Summer Youth Music. Dr. Alexander's former students hold many prestigious teaching positions in the U.S. and abroad with the most recent including high profile appointments at Valdosta State University (GA), Bradley University (Peoria, IL), Kennesaw State University (GA), Hansei University (Korea) and National Taiwan Normal University (Taipei). During the 1999-2000 academic year, Dr. Alexander served as Professor of Piano and Director of Piano Pedagogy at the prestigious program at The University of Oklahoma-Norman, USA.
How to Participate
Recitals
Participating students and teachers are invited to perform in the recitals.  Submit the name of the piece, along with the composer and an estimate of the playing time on the registration sheet.  The Art of the Piano faculty would also like to encourage piano ensemble playing. Participating students are urged to prepare piano duets or duos for the event in addition to solo repertoire. If you would like assistance in finding a partner or selecting repertoire, please contact Kumiko Shimizu at 846-4122.  Participation in the recitals is optional.
Master classes
Students interested in performing on a master class with the guest artist are invited to apply.  Selection for the master classes will be based on teacher recommendation, repertoire, and available time.
Workshops
Sessions for students include topics such as sight reading, music theory, rhythm and musicianship, and ensemble playing.
Just for Teachers
The Guest Artist will present a special workshop just for the teachers.  Also, teachers are encouraged to attend the master classes and recitals.
Schedule
Friday, January 30, 2015, 7:30 P.M.
Guest Artist Recital: Reid Charles Alexander
Bologna Performing Arts Center Recital Hall
Program
Vingt Regards sur l'Enfant-Jésus (1944)
Olivier Messiaen (1908-1992)
II: Regard de l'étoile
Thème de l'Etoile et de la Croix. Choc de la grâce…l'étoile luit naivement, surmontée d'une croix…
XIII. Noël
Carillon – Les cloches de Noël dissent avec nous les doux noms de Jésus, Marie, Joseph…
La lugubre gondola, S. 200/2 (1885)
Franz Liszt (1811-1886)
Funérailles, S. 173/7 (Harmonies Poétiues et Religieuses no. 7, 1849)
Franz Liszt
-Intermission-
Préludes (Book II, 1913)
Claude Debussy (1862-1918)
Brouillards (Fog)
Feuilles mortes (Fallen leaves)
La Puerta del Vino (The Wine Gate)
Les Fées sont d'exquises danseuses (The fairies are exquisite dancers)
Bruyères (Heathlands)
General Lavine – eccentric (General Lavine – eccentric)
La terrasse des audiences du clair de lune (The terrace of audiences in the moonlight)
Ondine (Undine)
Hommage à S. Pickwick, Esq. P.P.M.P.C. (Homage to S. Pickwick, Esq. P.P.M.P.C.)
Canope (Canope)
Les tierces alternées (Alternated thirds)
Feux d'artifice (Fireworks)
Saturday, January 31, 2015
(Tentative)
| | |
| --- | --- |
| 9:30 am | Registration/Refreshments (Bologna Performing Arts Center lobby) |
| 10:00 am | Recitals |
| 11:00 am | Master Class with Dr. Reid Alexander |
| 12:00 pm | Lunch |
| 1:00 pm | Workshop for Teachers with Dr. Reid Alexander: Teaching Outside the Box: What the Score Does Not Tell You |
| 1:00 pm | Student Workshops with Dr. Fosheim, Dr. Shimizu, and Dr. Shin |
| 2:30 pm | Break |
| 2:45 pm | Master Class with Dr. Reid Alexander |
| 4:30 pm | Adjourn |
Registration
Registration for this event is $25 per participant. Registration includes lunch and refreshments. The registration fee for teachers of participating students will be waived.  Registration is due Friday, January 23, 2015. Late applications may be accepted. However, the names of the participants who register after the registration deadline may not be printed on the program and participation in a recital and/or a master class may not be guaranteed for late applicants.
Please download the registration form:
Location
All performances and sessions will occur in the Bologna Performing Arts Center, on the campus of Delta State University, located on Highway 8 West in Cleveland, Mississippi.
Need more information?
Call 662-846-4615 or email the piano faculty at kfosheim@deltastate.edu, kshimizu@deltastate.edu, or jshin@deltastate.edu.