Dr. Shelley Collins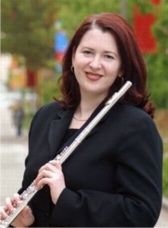 Dr. Shelley Collins is Associate Professor of Flute and Music History at Delta State University, where she also teaches music history, the history of rock, and conducts the DSU Flute Ensemble. She has served as Secretary of the Executive Board of the National Flute Association and is President of the Mid South Flute Society Board of Directors. She served as President of the Seattle Flute Society from 2003 to 2006 and of the Colorado Flute Association from 2000-2001. She also serves on the advisory board of FlutewiseUSA.
An enthusiastic and encouraging clinician, Dr. Collins has adjudicated at music festivals in Washington, Alaska, Montana, Idaho, Colorado, Alabama, and Arizona and has presented workshops for the Los Angeles, Greater Portland (OR), and Seattle flute societies. She has been a performer or presenter at National Flute Association conventions in Atlanta, Columbus, Dallas, Las Vegas, San Diego, and Washington, D.C., and she has served twice as a judge for the NFA's Newly Published Music Competition. One of her flute choir arrangements, Corelli's Concerto Grosso, Op. 3, No. 1, is published by Falls House Press. Her articles have appeared in Flutist Quarterly (the journal of the National Flute Association), Flutewise, the New Zealand journal Flute Focus, and The Journal of the Flute Federation of South Africa.
Dr. Collins previously taught at Seattle Pacific University, Colorado Christian University, and the University of Colorado-Boulder Division of Continuing Education. As a flute ensemble conductor, she has directed the Rocky Mountain Flute Choir, SPU Flute Ensemble, and Arizona Flute Society Flute Choir.
A native of Montana, Dr. Collins received the Doctor of Musical Arts in Flute Performance and Pedagogy from the University of Colorado-Boulder and a Master of Music degree in Flute Performance from Arizona State University. She earned a Bachelor of Arts in Music Performance and Music Education at Seattle Pacific University. She studied with Alexa Still, Rae Terpenning, Karen Yonovitz, Zart Dombourian-Eby, Trygve Peterson, and Kim Pineda, and played in master classes for Sir James Galway, William Bennett, Jeanne Baxtresser, John Barcellona, James Walker, and Arnold Jacobs.
Dr. Collins lives in Cleveland with her husband, English professor Don Allan Mitchell, and their son, Eddie.
Contact
662-846-4617
Department of Music
Box 3256
Delta State University
Cleveland, MS 38733