Languages & Literature – Alumni
The Languages & Literature Division aims to send out students able to think critically, to speak and write with confidence, to solve problems, and to tackle whatever adversity or opportunity that comes their way.
A degree from the Division of Languages & Literature is a solid foundation for a variety of career choices. Many Division students elect to be secondary school teachers or to pursue careers in writing and editing, but others choose different paths. Our graduates are also scholars, poets, playwrights, journalists, theatre artists, editors, lawyers, research analysts, librarians, administrators… the list goes on and on. Here are a few testimonials from recent graduates:
---
Chris Davis
Class of 2007
"My English and journalism professors at DSU helped me develop my  own style. The guidance about writing I received from them was the best  part of my undergraduate experience. I use this guidance every day as part  of my job." 

-Chris Davis is the News Director at News Mississippi, a state-wide network that serves SuperTalk and sixty other affiliates.
---
"

I look back on my years as an English major undergraduate fondly. What I appreciated most about the professors here is that they not only had high standards but they provided us with the means to reach them. Their enthusiasm for literature and writing makes the classroom an enjoyable and exciting arena of learning.

"

-After earning his B.A. in English from Delta State, Nick White went on to earn an MA in English from Mississippi State University and an MFA in Creative Writing from Ohio State University. White is currently working towards a PhD in English from the University of Nebraska-Lincoln.
---
Andrea Tatum
Class of 2006
"The Communication Studies program at Delta State is nothing less than impressive. When I was there, the classes and teachers taught me everything I needed to know for the real world. They taught me to be a better writer and speaker, which helped me get a great job when I graduated from college. Most employers look to hire someone with good communication skills, and I think that the Communication Studies program at Delta State can help any graduate become successful in this area. The program is growing into something spectacular at Delta State, and I see it becoming even more remarkable each year. "
-Andrea Tatum (pictured left) is a writer and content editor of Varsity.com for Varsity Spirit Corporation in Memphis, Tenessee.

---
Stephanie Eddleman

Class of 2002
"I came to Delta State as a non-traditional student, excited about returning to university studies, ready to work hard, yet a little self-conscious and unsure of my abilities after so many years out of an academic environment.   It didn't take me long to realize that Delta State was the right place for me.   My professors—all of them—encouraged me and challenged me and supported me.  They believed in my dreams when I was scared to dream for myself.  They opened doors for me that I didn't even know existed, and sometimes, when I was a little hesitant to enter, they pushed me right through.   They were my mentors, and now I am proud to call them my friends."

-Stephanie Eddleman (pictured right) received a Ph.D. in English Romantic Literature from the University of Mississippi and is currently an Honors Symposium faculty member at Harding University.
---
Ashley Combest
Class of 2001
"I am grateful for the nurturing environment of Delta State, which, no doubt, made it possible for me to be where I am today.  Now a doctoral candidate at the University of Tennessee, I still rely on the encouragement and support of those professors at Delta State who took an early interest in shaping my career.  The care and attention the faculty offers to each student is not only invaluable, but also often hard to come by in many academic institutions.  I look back upon my time at DSU more fondly than any other academic setting, and I know that this place is where my love of literature best thrived, where my creativity grew, and where remain even now the roots of my inspiration. "
-Ashley Combest earned her MA in English from the University of Tennessee-Knoxville and is currently working towards her Ph.D. there. She teaches composition, literature and also works in the Writing Center.
---
Bonnie Gillespie

Class of 1998
"When I first came to Delta State, I was a science major and obviously a bit misguided. On a lark, I took a creative writing class and that experience became a signpost for me, leading me to become an English major. Once I became a student in the Division of Languages and Literature, I knew I had found a home. Now, whether I find myself in the halls of Congress, in Geneva at UN agency meetings, or in rural African villages, I am well equipped to do my job with the skills I cultivated as an English major at Delta State."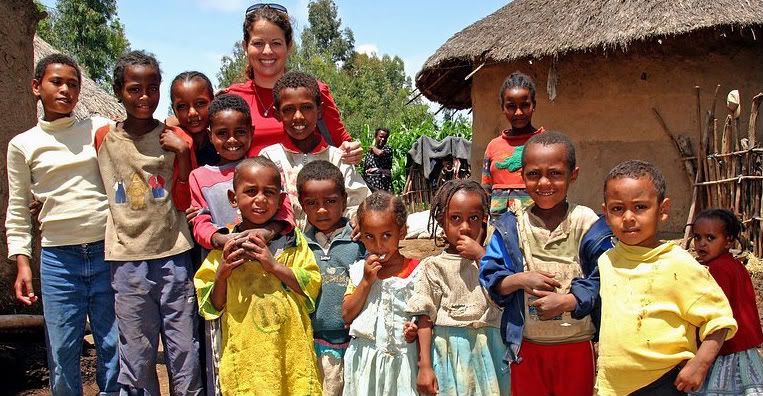 -After receiving her Masters in Journalism, Bonnie served as a writer, photographer and communication officer for the American Red Cross, responding to dozens of disasters domestically and abroad, including the massive 2004 tsunami and 2010 Haiti earthquake. She was Advocacy Director at the Center for Communication Programs at Johns Hopkins University, where she received a faculty appointment, and is now the Senior Director of Development at CARE, an international non-profit headquartered in Atlanta. Bonnie continues to lead her consulting firm, Gillespie Communication, as well, just to keep things interesting.
---
Faculty Webmaster: Don Allen Mitchell