Honors Program
The Honors Program at Delta State provides enhanced educational and cultural experiences for talented and academically committed students within an environment that fosters discovery and creativity. Students accepted into the program become Honors Fellows and enjoy benefits such as smaller class size, priority for early registration each semester, and recognition at the university commencement ceremonies. In addition, Honors Fellows will have access to opportunities for co- and extra-curricular activities, including but not limited to cross-cultural experiences, civic engagement, and lectures. The Honors Program also provides mentoring and advising opportunities for Fellows.
Thank you for your interest in the Honors Program at Delta State University!
The Honors Program is now accepting applications for the Honors Program for Fall 2015.
The priority deadline is April 30th.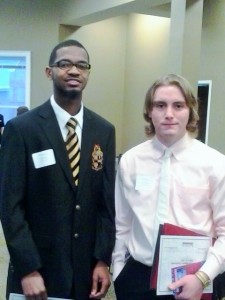 Pictured:
Gared Watkins and Mason Shelton at the first annual Mississippi Honors Council Conference at Mississippi State University, March 2013.
Learn more about the DSU Honors Program and qualifications needed to apply. Click the links below to for application materials for admission for FIRST-TIME INCOMING FRESHMAN for FALL 2015
For further information, please contact:
Dr. Leslie Fadiga-Stewart, Honors Program Director 
DSU Box 3234
Kethley Suite A
Cleveland, MS 38733
honors@deltastate.edu
Tel.: 662 846 4119 
Page last updated March 2015. / Page maintained by Leslie Fadiga-Stewart