GRAMMY U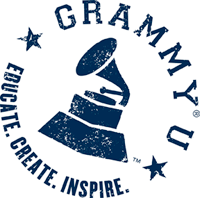 The GRAMMY University Network (GRAMMY U) is a unique and fast-growing community of college students who are pursuing a career in the music industry. The Recording Academy® created GRAMMY U to help prepare students for careers in the recording industry through networking, educational programs and performance opportunities. GRAMMY U is designed to enhance students' current academic curriculum with access to recording industry professionals to give an "out of classroom" perspective on the recording industry.

How will joining GRAMMY U help my career in the recording industry?
By joining the GRAMMY University Network, students will gain access to today's leading recording artists, producers, engineers and songwriters — a wealth of talented individuals who want to share their experiences with tomorrow's recording industry professional.
Do I have to be a music or music industry major to join GRAMMY U?
No, membership is open to all full-time college students who are considering a career in music or in a music industry related field. Majors can include, but are not limited to:
Art
Business
Journalism
Marketing
Accounting
Communications
Liberal Arts
Music Industry Studies
Music (Performing)
Interdisciplinary Studies
Applications for membership in the DMI chapter of GRAMMY U are available in the DMI offices (Whitfield 105) and are due within the first three weeks of each semester. Faculty advisors for the DMI GRAMMY U chapter are Barry Bays(bbays@deltastate.edu) and Charly Abraham (cabraham@deltastate.edu).

The DMI GRAMMY U group meets regularly during academic year.  Activities include: providing support staff for DMI events, implementing fundraising and service projects for local designees, attending industry events associated with the Memphis chapter of The Recording Academy.
2014-2015 GRAMMY U officers:
President, Jarrick Finkley
Vice President, LindseyAnna Pardue
Secretary/Treasurer, Jessica Wishard