Message from the DMI Director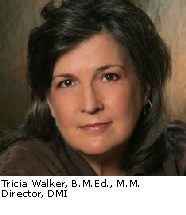 Welcome to the DMI Entertainment Industry Studies program! I am excited about the opportunities ahead for this innovative program at Delta State University.
The DMI is an independent center under the College of Arts & Sciences at Delta State University.  The DMI offers the Bachelor of Science degree in Entertainment Industry Studies, a unique degree program combining technology, business, and creative coursework specific to the music and entertainment industry.
The DMI Recording Studios opened in the Spring of 2009. Studio A, which features a Neve V3 analog console, was designed to accommodate large scale recording such as symphony orchestras, wind ensembles, and mass choirs. Studio B features an AVID ICON and Pro Tools system to accommodate multiple types of recording and is structured to mix in surround sound.  Studio C serves as a project studio, and the audio transfer room provides opportunity to digitize older forms of media.  In addition, the DMI is home to the Mobile Music Lab, a mobile music technology facility serving upper elementary through high school students in the Mississippi Delta.
Our instructors are veterans of the music business who continue to be active in their respective areas. They have over 90 years combined experience in audio engineering, songwriting, production, publishing, performance, and the business of entertainment.
An exciting new chapter is on the horizon for DMI with plans underway for GRAMMY Museum Mississippi, the first sanctioned GRAMMY Museum outside of Los Angeles, built on the campus of Delta State University.  As this facility is completed, opportunities will be developed for our students in both GRAMMY Museum Mississippi and the GRAMMY Museum at L.A. Live.
The DMI encourages students to think "outside the box" in an entrepreneurial and interdisciplinary way as they plan for their future after graduation. I invite you to take time to browse our website for an overview of our degree program, our faculty, and of facilities.  If you would like to schedule a tour of the DMI, we would be glad to show you around.  If you have any questions, please don't hesitate to contact our offices at (662) 846-4579 or dmi@deltastate.edu.