"http://www.w3.org/TR/html4/loose.dtd">


Division of Biological and Physical Sciences
Science Computer Laboratory (WAL 181)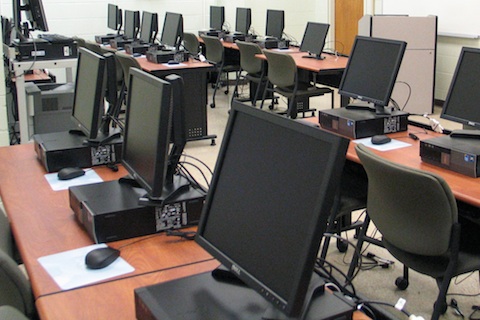 The Science Computer Laboratory, located in Walters Hall Room 181, is a general use computer facility which has recently been upgraded with 24 new student computers and instructor's station. Instructors can project computer images to be viewed by an entire class. The instructor station also features a Sympodium display which allows an instructor to write with digital "ink" and display such images live to a class. All computers are connected to the campus network and may be used for local network and Internet access. Each computer has installed software for general purpose use (Microsoft Office) as well as science-specific software (e.g. Vernier Logger Pro). Additional software may be available for specialized upper-level courses.
The lab is available for use by science classes (by reservation) and for individual student use anytime it is not reserved by a specific course. Currently the lab is open during regular daytime hours (8:00 am to 5:00 pm). A schedule of reserved times is posted below and outside the door of the lab.
Student computers also have access to files on the local science server. Each faculty member maintains a directory (folder) where files may be placed for student use on projects and assignments. Students should consult their instructors for information about which files are available.
Student computers are configured to be read-only; files saved locally are erased whenever the computers are restarted. When students need to retain copies of files they are working on, they should save their data to a USB thumb drive. Students must supply their own thumb drives for this purpose. Printing facilities are available in the lab. A laser printer in the lab is connected to the local network allowing a student the ability to print documents from any computer. Payment for printing is done through a student's OKRA card account.
Funding for this facility has been provided by the Department of Education Title III Grant: Increasing Student Success and Retention through the Transformation of Laboratory Science Instruction awarded to the Division of Biological and Physical Sciences.
Current lab reservations
The Science Computer Lab is reserved at the following times for the current semester. The lab is available during the daytime hours for individual use whenever not reserved for a particular course or student group.
| | | | |
| --- | --- | --- | --- |
| Date | Time | Course | Instructor |
| Every Mon | 8:00 to 8:50 | BIO 334 | Fitts |
| Every Tue | 1:40 pm to 4:20 pm | CHE 326 | Jurgenson |
| Every Wed | 8:00 to 8:50 | BIO 334 | Fitts |
| Every Fri | 8:00 to 8:50 | BIO 334 | Fitts |
Making a lab reservation
Science faculty may reserve the lab for the use of a particular course or student group. Before requesting a reservation, check the schedule above to be sure the desired time is available.
DSU Sciences Home | Division News | Faculty | Degree Programs | Pre-health Programs | Course Descriptions
Scholarships | Faculty | Student Resources | Caylor-White-Walters Renovation | Center for Science and Environmental Education
Elliott Program of Excellence | Alpha Epsilon Delta | Beta Beta Beta | American Chemical Society
Delta State University > Arts and Sciences > DSU Sciences > Science Computer Laboratory