Department of Biological Sciences
Alpha Epsilon Delta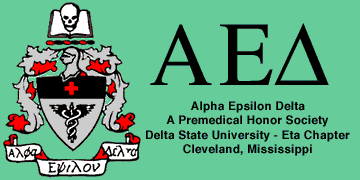 AED is the world's largest honor society exclusively serving premedical education. The mission of the Society is to encourage and recognize excellence in premedical scholarship; to stimulate an appreciation of the importance of premedical education; to promote communication between medical and premedical students and educators; to provide a forum for students with common interests; and to use its resources to benefit health organizations, charities and the community.
The Mississippi Eta Chapter seeks to provide our members with the opportunity to meet with various professionals within the medical community, pre-health advisors, and admissions officers from various professional schools. Additionally, we work to provide our members with the necessary information (such as application deadlines, course requirements, and interview strategies) that is vital to successfully gaining admission to professional school and for succeeding once you get there. Our members are also encouraged to participate in community services.
Why should I join AED?
When you apply to a medical school or other health-related professional school, admissions committees look for several things in your application. Most important are: excellent scholarship, admission exam scores (MCAT), extracurricular involvement, health care experience, and letters of recommendation. Just going to class and making excellent grades is not enough. You must be involved with activities other than academics that are designed to broaden your application portfolio. You can find out how to do this by joining AED. If you are serious about a health care profession, then you need to be involved with a total program of preparation. AED membership looks good on your application by itself, but as an active member, you benefit from one of AED's primary goals-to help inform and assist you in the whole pre-health student experience.
Membership requirements
Membership in AED is offered to pre-health students recognized to have superior scholastic achievement.
To be eligible for membership, you must have:
a GPA of at least 3.2 on all college course work
a GPA of at least 3.2 in science and math courses (BIO, CHE, PHY, MAT)
completed at least 3 semesters of full-time course work at an accredited college or university, including at least 1 semester at Delta State.
The minimum of 3 semesters must have been completed at the time of application. That is, you cannot be accepted for membership while still enrolled in the 3rd semester.
How to apply for membership
AED initiates new members each Spring. Watch for notices around the Caylor-Walters building that tell you when to put in your application. The deadline for applying is usually around the 1st of April. You can pick up an application from the Biological and Physical Sciences Division office or download one here: AED application (PDF).
Health Professions FAQ
AED has an ongoing project with the intention of providing important information to new students interested in the health professions. We are assembling a list of frequently asked questions (FAQ) related to any aspect of pre-health professions programs. That FAQ will be posted on this web site as it evolves. If you have a question about admission to medical, dental, or any other health profession school; about program requirements; about what courses to take; about how to apply for professional school; about how difficult it is to get accepted; or about ANY aspect of the pre-professional program experience, please submit to us.
Email your question to Dr. Tiftickjian at jtift@deltastate.edu. You can also submit questions on paper to Dr. Tiftickjian or to any AED officer or to Ms. Knight in the Divison office, Walters 180.
Events
Next AED meeting
November 5, 2015 – New member initiation
All pre-health students are always invited to AED meetings. You don't have to be member to attend and participate in AED events and projects.
2015-2016 Membership
Anna Brown
Derrell Hart
Austin Henderson
Taylor Holland
Jessica Hood
Meghan Johnson
Darius Kennedy
Marc Leggett
Haley McDonald
Jacob Mercier
Doug Miller
Bonnie Beth Moore
Rebekah Napier-Jameson
Kara Lane Nowell
Katie Penton
Ben Pickard
Hannah Register
Cassy Taylor
Judy Ulufale
Andrew Van Velsor
Will Weeks
Pre-health Resources on the Web
AED related
Health professions schools
MCAT help
Other pre-health resources
Biological Sciences Home | Department News | Faculty | Degree Programs | Pre-health Programs | Course Descriptions
Scholarships | Student Resources | Caylor-White-Walters Renovation | Center for Science and Environmental Education
Elliott Program of Excellence | Alpha Epsilon Delta | Beta Beta Beta
Delta State University > Arts and Sciences > DSU Biology > Alpha Epsilon Delta