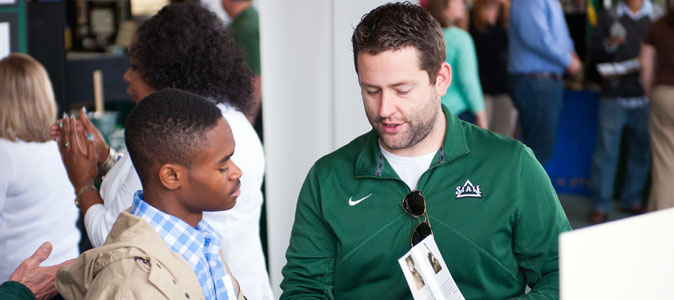 Resources for Students
Student Academic Forms
BFA Degree Requirements 2012
BFA Degree Requirements Prior to 2012
BA Art Education with Teacher Licensure
Graphic Design Class Track
Kappa Pi
International Art Honor Society
The fiscal year for Kappa Pi is from September 1 to May 31 of any year. Initiates in the fall will, of course, receive more benefits than those being initiated in the late spring. Initiations can be held at any time during the fiscal year, at the discretion of the university art department and chapter sponsors. Kappa Pi publications, The Sketch Pad in the fall and The Sketch Book in the spring, will be sent to all active members, initiates, alumni and associate members upon payment of annual dues. Faculty Sponsors, Honorary Members and Patrons receive complimentary copies of the publication each year.

Active Members: $10.00 annual dues.
Active members are those students who have previously paid an initiation fee and have been inducted into a chapter. To remain in an active status, students and officers pay this annual fee at the beginning of each school year (September).

Initiates:$25.00, paid only once.
Those students new to the organization and who are being inducted into the chapter will pay $25.00 their first year. Initiates will receive a membership certificate, pin, and the publications. The $25.00 fee is considered as initiation and first year dues.

Faculty: $10.00 annually.
Any faculty member wishing to hold membership will be considered active upon payment of $10.00 dues annually. No initiation fee is required.

Faculty Sponsors: 
No dues are required. A limit of two faculty members to act as sponsors is requested to facilitate communication between local and international offices. Sponsors are requested to supervise all reports to the international office to insure accuracy.

Alumni: $10.00 annually.
This category includes members of the organization who have received their degree but who wish to remain in touch with Kappa Pi.

Associate Membership: $25.00 initiation; $10.00 annually. 
Community persons or educational faculty other than art can receive membership with a local chapter by following the same procedures as a student initiate: $25.00 upon initiation and $10.00 after the first year.
Honorary Membership: No dues required. Given to Nationally and Internationally recognized artists/craftsmen. Names are presented to the president and Board for vote.

Patron: No dues are required. 
This title is bestowed upon any person or community group who makes a significant gift to a local chapter. A certificate is made available for presentation.

Life Membership: $200.00, paid only once. 
Contributions are made to the International Scholarship Endowment. The Life Member receives a special certificate and all publications. (Tax deductible)

Charter Fee: $50.00 paid only once.
Chapter Reactivation Fee: $10.00.
Art Scholarships and Awards
Art Department Portfolio Scholarships These scholarships are competitively awarded to incoming freshmen of the following academic year who major in art. Students are required to present portfolios of their recent work on the annual Portfolio Day held each Spring. The portfolios are judged and the scholarships are awarded by the Art Department Scholarship Committee and cannot be applied for by application.
DOWNLOAD PORTFOLIO DAY INFORMATION
Friday January 22, 2016 from 9am- 2pm
Deadline for acceptance of portfolio scholarships:
Contact Persons: Ron Koehler, Chair x4729 Diane McCall, Secretary x4720
Portfolio Day
Each spring the Art Department hosts a Portfolio Day for high school seniors. Scholarship presentations are made that day after the portfolios are reviewed by the art department faculty members. Scholarships for incoming freshman art majors range from $500.00 to $2,000.00, may be in addition to University awards based on academic achievement. You must include a transcript of your high school record and your ACT and/or SAT score if you have taken either test. Evaluation Select only your best work for inclusion in your portfolio. Six to ten pieces should be sufficient. Mat your artwork for best effect. If you cannot mat each piece, be sure the presents a neat appearance. Three dimensional work may be included. If these pieces are too large to bring, a photograph of the work might be included in the portfolio. Portfolios will be evaluated based on: originality/craftsmanship/presentation You must include a transcript of your high school record and your ACT and/or SAT score if you have taken either test. Awards Thousands of dollars in 1-4 year scholarships are available on Portfolio Day to incoming freshman art majors. These scholarships may be in additionn to University awards based on academic achievement. Scholarships are awarded based on student's portfolio of work and academic achievement.
Scholarships
Malcolm Norwood Art Scholarship This scholarship was established by the Cleveland Crosstie Arts Council in honor of Malcolm Norwood, former Chair of the Department of Art at Delta State University. The competition is open to all art majors. It is awarded competitively on the basis of participation in the annual spring Crosstie Festival and cannot be applied for. Contact Persons: Secretary, or Chairperson of the committee DOWNLOAD MALCOLM NORWOOD SCHOLARSHIP APPLICATION Maxine Boggan Holcombe Art Scholarship This scholarship is awarded to an art education major who has a minimum overall grade point average of 2.5 and a 3.0 in art classes. The recipient must be a non-graduating senior or in the final period of their junior year (at least 70 hours passed.) Transfer students must have passed at least 27 hours at DSU. The scholarship is awarded by the faculty of the Department of Art and cannot be applied for. The endowment fund was established by friends of Maxine Boggan Holcombe, former Associate Professor of Art. Smith-Patterson Art Award This scholarship is awarded to an art major who has a minimum overall grade point average of 3.5. The recipient must be a non-graduating senior or in the final period of their junior year (at least 70 hours passed.) Transfer students must have passed at least 27 hours at DSU. The scholarship is awarded by the faculty of the Department of Art and cannot be applied for. Melanie Tyler Owen Memorial Art Scholarship Any art degree is elgible. Demonstrates deep appreciation of art, has a positive influence on his/her fellow art majors, and has demonstrated financial need. Ferretti-Karnstedt Any art degree with a minimum of 24 hours of art courses, minimum Art GPA 3.5. Must be enrolled in the fall for at least 12 hours. K. C. Belenchia Female junior or senior who represents the attributes of courage, individuality, personal dignity, joy and elan. Vivien Brown Hannah Student with concentration in Painting, Full-time junior or senior in fall semester, with good academic standing