DMI Healing With a Groove Team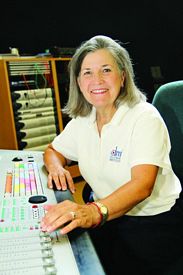 Tricia Walker:
Project Director
A native of Mississippi, Tricia Walker earned a bachelor's degree from Delta State University and a Master's degree from Mississippi College before moving to Nashville in 1980 to pursue a music career. As a staff writer, Ms. Walker wrote for Word Music and PolyGram music, where she had songs recorded by Faith Hill, Patty Loveless, Kathy Troccoli and Allison Krauss, who won a GRAMMY® for her version of the song, "Looking In The Eyes Of Love," co-written by Ms. Walker. She worked as a vocalist and instrumentalist with award-winning artists Shania Twain and Paul Overstreet, along with Grand Ole Opry star Connie Smith.
Ms. Walker served as Creative Director for Crossfield Music Publishing where she developed a staff of five writers and produced company demos and masters. She was the founder of the Bluebird Café's legendary Women in the Round, a writer's show featuring award-winning singer/songwriters Ashley Cleveland, Karen Staley, Pam Tillis and Ms. Walker. As proprietor of Big Front Porch Productions, Ms. Walker has produced eight of her own CD projects and continues to perform her one-woman show, "The Heart of Dixie," throughout the region. She returned to Mississippi in August of 2006 and now serves as the Director of the DMI Entertainment Industry Studies program. More information about Tricia Walker may be found at www.bigfrontporch.com.
Laeitta Wade:
Project Coordinator
Laeitta Wade graduated from Delta State University with a B.S. degree in Music Industry Studies (primary concentration in Audio Engineering Technology) and a B.S. degree in Interdisciplinary Studies with concentrations in Media Arts, Songwriting, and Entrepreneurship. During her undergraduate program, the Greenville native was President of the student AES (Audio Engineering Society) chapter, General Manager for Fighting Okra Records, and a member of GRAMMY U. In 2013, Laeitta and a Business Administration major were selected as winners of the Steve Azar St. Cecelia Foundation Business Competition.
Laeitta has worked with both the DMI Mobile Music Lab and the Delta Arts Alliance in teaching youth in the Mississippi Delta the basics of creating original music and audio/video production. She interned with the Communications & Marketing Department at Delta State University, using her audio engineering and videography skills to film and edit President LaForge's weekly video series. Laeitta also founded Eittabug Productions, a videography production company that serves to meet the vision and creativity needs of the Mississippi Delta.
While working as a freelance videographer, Laeitta began working for the DMI Mobile Lab as the Project Assistant for the Healing With A Groove 2.0 program. In July 2017, Laeitta was hired as the Project Coordinator for HWG 2.0.
Chelsea Young:
Project Assistant
Jackson, Mississippi native and local music artist Chelsea Young earned a B.S. degree in Entertainment Industry Studies from Delta State University in the fall of 2016. During her undergraduate years at Delta State, Chelsea began teaching and working with youth in the Mississippi Delta through the DMI Music Mobile Lab. In 2014, Chelsea represented the DMI at the Southern Entertainment Awards (SEA) as a winner of the SEA Hip-Hop battle competition.
As an encouragement to young ladies in local communities who face peer pressure, Chelsea launched her own clothing line #ThuggieGuhGang ™, whose mission statement is, "Uniquely made. No one's the same. Be yourself. Your style is different."
Chelsea has worked at Delta Arts Alliance as an Artist-in-Residence, teaching songwriting, musical staff reading, bass guitar, MIDI keyboard and musical production at various schools throughout the Mississippi Delta. She was lead instructor at Camp Renaissance 2017 at T.L. Westin Middle School in Greenville, MS. In 2017, Chelsea was hired as Project Assistant for the Mobile Lab: Healing with a Groove 2.0 where she will assist with training and furthering the mission of the program.
Mobile Lab Student Leaders
Audrianna Johnson
Job Position
Dez Moyler
Job Position
Eric Jamal Johnson
Job Position
Ishmael Gray
Job Position
Jerion Keyes
Job Position
Libby Switzer
Job Position
Liz Sprague
Job Position
Mariah Nettles
Job Position
Monte Washington
Job Position
Zachary Stewart
Job Position