Scholarship Recipients
Delta State nursing students (left) Meagan Tubertini of Greenville, Holly Brassel of Coffeeville, and Allison Hall of Cleveland were recently recognized for receiving The Robert E. Smith Endowed Nursing Scholarships. Pictured with the nursing students is Robert E. Smith.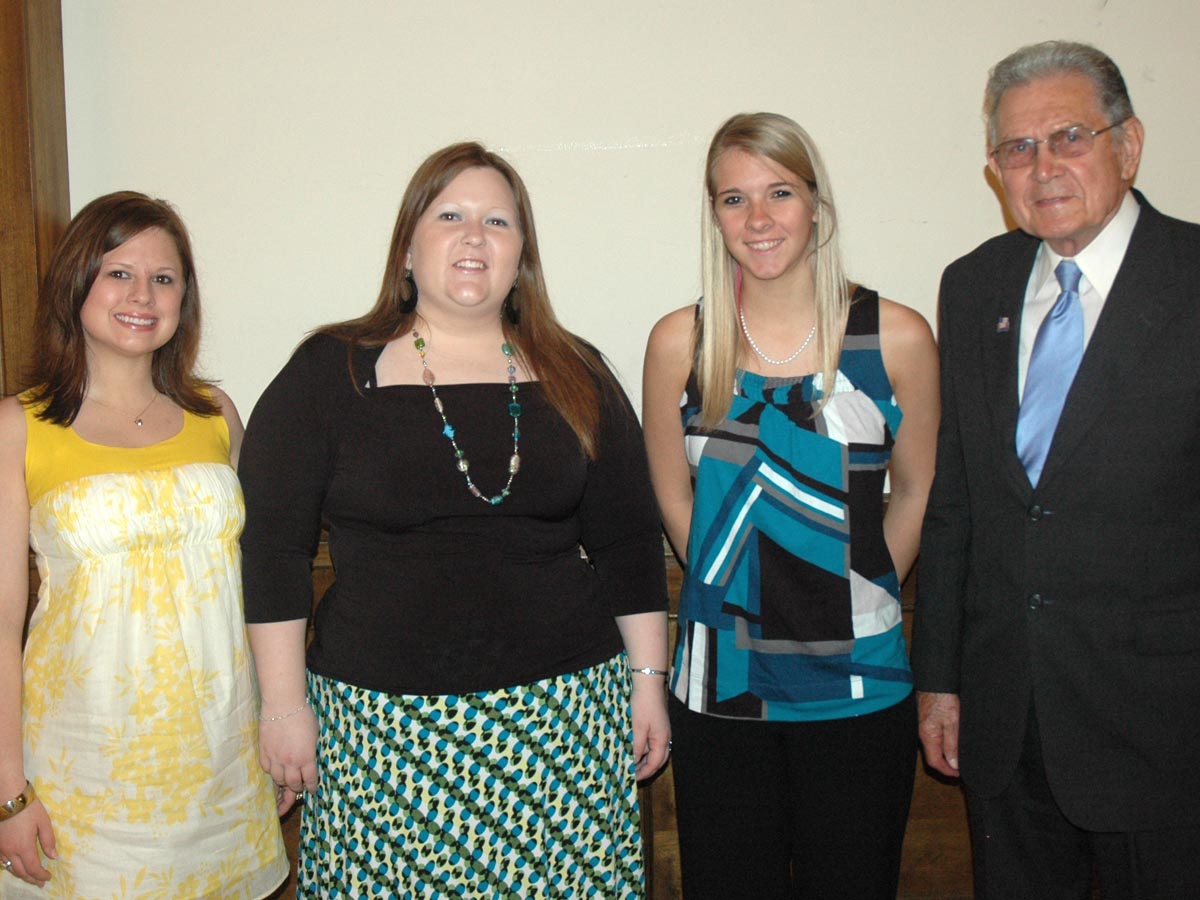 Robert E. Smith of Cleveland created six "Robert E. Smith Endowed Nursing Scholarships" which are given to encourage and assist worthy and needy nursing students. These scholarships may be given to either pre-nursing students or students enrolled in the School of Nursing.
---
Delta State University College of Business student Brandon Chase Whitmire, a graduate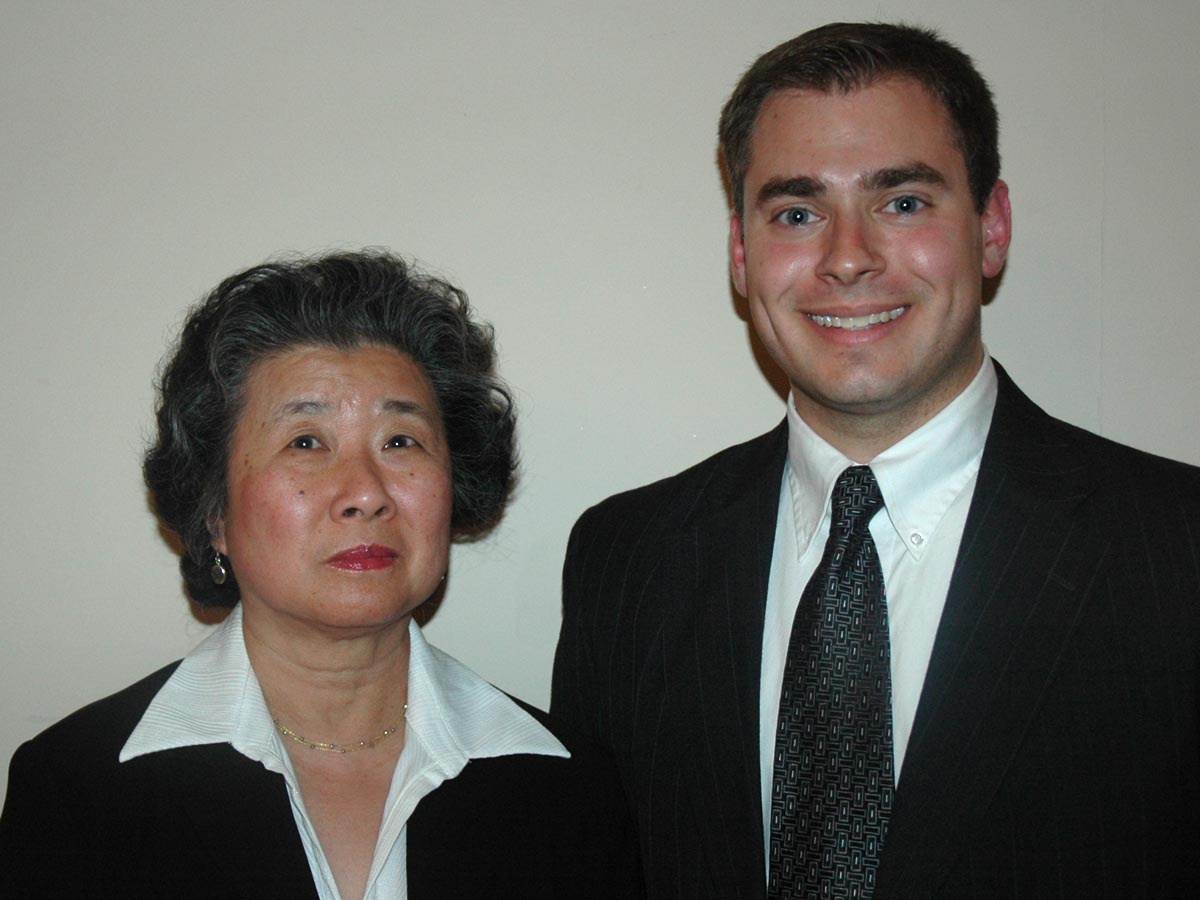 accounting major of Clarksdale, was presented the John Quon Outstanding Accounting MPA Award, which is presented to and outstanding graduate student based on leadership and scholarship. Pictured with Whitmire is Frieda Quon.
---

Delta State University College of Business student Randall Wayne Geimer, a senior accounting major of Madison, was recognized for receiving the Gibson-Yurkow Scholarship. The scholarship is awarded to incoming freshmen who are outstanding students enrolled in the College of Business, demonstrating good character and above average academic potential.
Delta State University College of Business students (left) Cody P. Byrd, a junior insurance and real estate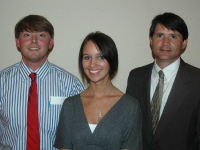 major of Clarksdale, and Melissa G. Jones, a senior accounting major of Lambert, were recognized for receiving the Staplcotn Scholarships. Pictured with Byrd and Jones is Staplcotn representative Russell Robertson of Greenwood. The award is presented to business students whose family is connected to the cotton industry in the state. Located in Greenwood, Staplcotn is the largest marketing cooperative in the nation.
---
Lonnie Trotter, a History major from Duck Hill, and Eric Swindle, a History major fromrtland, were recently recognized for receiving the Judge Ed Green & Margaret Allen Green Scholarships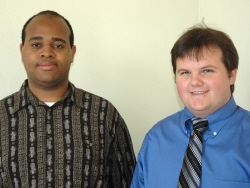 The scholarship was established in 1992 to honor two outstanding members of the Cleveland community, the late Judge Edward H. Green, Circuit Court Judge, and his wife, the late Margaret Allen Green, civic leader and educator.
Two $500 scholarships are awarded each semester to a sophomore, junior or senior. One recipient must have an emphasis in History and the other must be in the College of Education. The awards are based on academic excellence and need.
---
William McKinley Cash Scholars Program established
William McKinley Cash
The William McKinley Cash History Scholars Program has been established at Delta State University. The program honors Dr. William Cash who taught history at Delta State from 1962-1995, and served as Chair of the DSU Department of History from 1969-1993.
A native of Echola, Ala., Cash received his bachelor's and master's degrees from Mississippi State University and his Ph.D. from the University of Alabama. He was also a U.S. Army veteran, having earned the rank of Captain.
Cash's contributions to scholarship and to Delta State were many and varied. Cash was author of numerous historical works, including The Delta Council: Fifty Years of Service to the Mississippi Delta (with R. Daryl Lewis). He also edited the Journal of Bolivar County History and served on the Editorial Board of the Journal of Mississippi History. He served as president of both the Bolivar County Historical Society and the Mississippi Historical Society, a member of the Mississippi Educational Television Board, and chairman of the Board of Directors of the University Press of Mississippi.

Despite those accomplishments, Cash was first and foremost a teacher. In dedicating the 1988 Broom, Delta State's yearbook, the editors described him as "a master teacher, fair administrator, and …a friend to all who have sought his help and guidance." Cash embodied, the editors concluded, "the spirit and character of Delta State University." Comments from his students included: "He is always helpful but never expects anything in return"; "Along with history, he teaches you great lessons in life"; and "He always wants the best for his students and encourages them to do their best." In a fitting summary of Cash's legacy, one student declared, "He teaches not only from books but from the heart."

To sustain that legacy, Cash's daughter Nancy Cash Harvey and her husband Tim Harvey, both DSU alumni, have generously endowed the Cash History Scholars Program. "We want to honor his memory," said Mr. Harvey, "with something that effectively promotes the values to which he was devoted: good scholarship and dedicated teaching." Mrs. Harvey said, "Because of the great love, respect, and admiration I have for my father, I consider it a privilege to honor his memory by helping deserving students who wish to follow him into the field of teaching."

The Cash History Scholars Program provides financial assistance to exceptional students who intend to teach history. Michael Ward, a junior history major of Moorhead, has been named the inaugural William McKinley Cash Scholar at Delta State University. Ward has maintained a 3.61 overall grade point average and a 3.86 average in history courses. "It is a great honor," Ward said, "to be the first William McKinley Cash Scholar at DSU. I am grateful for Dr. Cash's legacy and to his family's generosity in making this possible."
---
Local rice pioneers honored with scholarship at Delta State
Decades after revolutionizing rice drying procedures in the Mississippi Delta, James and Jessie Simmons, of Cleveland, will be recognized for their agricultural ambition and innovative spirit. A scholarship fund in honor of the couple has been established by the Delta State University Foundation, Inc.
"The James and Jessie Lee Simmons Scholarship will assist children and dependents of rice farmers in attending Delta State University. This is a fitting way to pay tribute to the couple who were so instrumental in transforming the rice industry," said Keith Fulcher, Executive Director, Delta State University Foundation, Inc.
After returning from service as a Navy pilot in World War II, James Simmons received a degree from Mississippi State University. In 1949, he joined the staff of the Bolivar County Agricultural Stabilization and Conservation Service (ASCS).
While working for the ASCS office, Simmons aided in the evolution from sack drying rice to the more lucrative method of bin drying and in turn stimulated the rising rice economy that led to farmer-owned bins rather than those purchased through ASCS loans.
After taking a position with H.O. Ward Lumber Co, Simmons managed grain bins for ten years, formed friendships with local farmers and gained a vast knowledge of the rice business.
In the early 1950's the standard procedure for storing and drying rice included the use of bins with concrete floors and manifolds that ran the length of the bin itself. After researching the rice industries in surrounding states, Simmons began to experiment with perforated floors and the use of horse powered fans. The process involved pulling air down through the rice, inverting the rice, discharging the air under the perforated floors and forcing it up through the grain bin.
Simmons led the rice industry of the Delta in the use of scaffolding on both the interior and exterior of the bin, as well as the method of using rising ratchet jacks. By raising each ring individually, the time and cost of labor and construction was reduced by half.
Five years later, the innovative Simmons perfected the use of large 6,000-bushel grain bins and large centrifugal fans. In 1962, with the encouragement of his wife, Simmons partnered with J.C. Belk and developed the Simmons-Belk Company.
Throughout his career, Simmons' wife, Jessie, remained the driving force behind his inspiration. She encouraged his development in the rice industry and held the position of secretary at his company.
Though he left the company in 1970, Simmons produced $10 million of agricultural bins by 1979 and within five years averaged $8 million in sales. Simmons maintained his stake in the company until 1988, when he began the process of allowing his employees to purchase the business.
"The Simmons' have left a legacy in the rice industry and the scholarship in their name will allow future generations to continue to benefit from their lives," said Fulcher. "The Delta State University Foundation invites all friends and business associates of the Simmons to make a gift in their honor."
---
Delta State alumni make $1 million gift
Danny (back row, third from left) and Deborah Barfield (seated, middle) have made a $1 million gift of a life insurance policy to Delta State University Foundation. Their gift is given in honor of their parents Myrl Barfield (seated, left), Reno (back row, far right) and Lillian Borgognoni (seated, right) and in memory of Knox Barfield who died in 1989. The Barfields will make annual premium payments to the Foundation who they have named as owner and beneficiary of the policy. The Barfields recently met with Dr. John Hilpert (back row, second from left), president of Delta State, and Dr. Kent Wyatt (back row, left), president emeritus, to announce their gift.
There is always that common thread, that unifying force that will align every past, present and soon-to-be student at Delta State University – their hopes and dreams. Every student enters Delta State University with high hopes and grand dreams of success, just as Danny and Deborah Barfield did over 30 years ago.
This week, inside the Hugh Ellis Walker Alumni House on the Delta State campus, the Barfields made one of those dreams come true, as the couple donated a $1 million life insurance policy to their alma mater. Both Danny and Deborah, a former Borgognoni of Clarksdale, had always hoped to be able to give back to Delta State University at a level that signified the important role the institution played in shaping their lives
With their generous gift, the Barfields will help turn the dreams of future students into reality. Of the couple's charitable gift, Danny offered, "Deborah and I have been considering for some time how to show our support for Delta State University. We believe Delta State University is the greatest institutional asset of the citizens of Cleveland, Bolivar County and the region."
"It is hard to imagine Cleveland without Delta State," he continued. "Our gift, therefore, is a small investment to provide the same benefits for future generations that have been afforded to us."
A 1972 graduate of Delta State, Danny is the Senior Partner in the accounting, financial services and asset management firm of Barfield, Lindsey, Salley & Bailey, PLLC. Founded in the 1940's, the firm has been offering accounting services for over six decades and began offering financial services and asset management assistance in 1996 in both Cleveland and Oxford. Barfield is one of the founders and the majority stockholder in Boyle Lumber Company located in Cleveland and Greenwood. He and his wife, Deborah met while at Delta State, and are not the only members in their families to attend the University. Deborah's siblings, Brenda B. Robinson of Clarksdale; Cindy B. Cocilova of Cleveland; Reno Mark Borgognoni of Atlanta; and Jerry Borgognoni of Cleveland; also attended DSU, while Danny's siblings, Wayne Barfield of Gainsville, Fla.; and Carolyn B. Wilburn of Flora, also attended the University.

"Our two sons and our daughter attended Delta State, too," Barfield reported proudly. "In addition, Deborah and I have had so many nieces and nephews on both sides of our family attend Delta State that we have literally lost count."

But it was their parents, Myrl Barfield, of Bruce, and the late Knox Barfield, and Reno and Lillian Borgognoni of Clarksdale that truly inspired the gift. "This gift is made to Delta State University in honor of our parents in recognition of the sacrifices they have made to our well-being and the well-being of our children and grandchildren," Barfield praised. "My father passed away December 26, 1989. He was not an educated man but he understood the value of an education better than any man I ever met."

"It is an absolute joy to have the Delta State Foundation as a vehicle to transfer this appreciation for their efforts forward to future generations. We make this gift with the greatest confidence that the future of Delta State University and the Delta State Foundation is in very capable hands," he continued.
Of the Barfield's contribution, Delta State President, Dr. John M. Hilpert, lauded, "I commend and thank Deborah and Danny on their decision to make a gift of that magnitude to Delta State. Their family's legacy with the University is evident in the many degrees they have earned from Delta State and their gift is a testimonial to the type of relationship that we aspire to have with all of our alumni."
Executive Director of the Delta State University Foundation, Keith Fulcher, noted, "The Barfield's philanthropic act is one of the most outstanding that I have been a part of at the Delta State University Foundation. It sets an example of giving that I invite other alumni and friends to emulate.
"Many of our alumni and friends would like to make a significant gift to Delta State and life insurance is an often overlooked and underestimated asset to donate. Sizable gifts, like the Barfield's $1 million gift, can be made at a relatively low cost through a new life insurance policy with Delta State University Foundation named as both the beneficiary and owner of the policy," Fulcher continued. "The Foundation encourages gifts of life insurance policies and other types of planned gifts that will one day benefit the students of Delta State and provide for the future of the University."
Foundation President, James A. "Jimmy" Newquist, added his appreciation offering, "The Delta State Foundation is proud to partner with Delta State and work together with great people like the Barfields who want to honor and preserve what Delta State has meant to so many. Budgets and funding in today's time make it more important than ever that people like Danny and Deborah are willing to be so generous and the Foundation is very grateful for their support."
Dually, Ned Mitchell, chair of the Foundation's Campaign committee and a DSU alumnus, himself, praised, "The gift to Delta State by Danny and Deborah is a grand example for other alumni. This is a wonderful and heartfelt contribution by the Barfields. On behalf of the DSU Foundation, I want them to know how much we appreciate them."
It was Mitchell, though, combined with the efforts of Delta State University President Emeritus, Dr. Kent Wyatt that worked in prompting the Barfields to action.
"We have been inspired, especially by the unselfish efforts of my friends, Ned Mitchell and Dr. Kent Wyatt. Their efforts, on behalf of Delta State University, have not gone unnoticed," Barfield said.
Wyatt reciprocated, offering, "It is rewarding that former students' love for the University is expressed in such a fabulous way. The Barfield and Borgognoni families have a long legacy of attending Delta State and their gift is an acknowledgement of their commitment to providing resources for the next generations of Delta State students."
Gifts to Delta State to cover premiums are deductible for those who itemize and can be in the form of capital gain property for a second tax savings. For more information on the advantages of making a gift of life insurance to Delta State University, please contact the University Foundation at (662) 846.4708 or e-mail gmiller@deltastate.edu.
---
Delta State University student Rhonda Woullard (left), a Natural Sciences major of Hattiesburg, was recently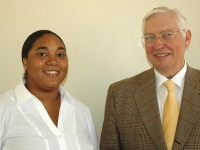 recognized for receiving the James Southworth Steen Science Award. Pictured with Woullard is Dr. Steen, the namesake of the award.
This scholarship is given to an outstanding graduate student in the Division of Biological Sciences and Physical Sciences. The scholarship was established by
Dr. James Steen, a former professor of biology.
---
Delta State University recognizes scholarship donors and recipients