Recent Gifts
Delta Academy announces Graeber Foundation Scholarships to Delta State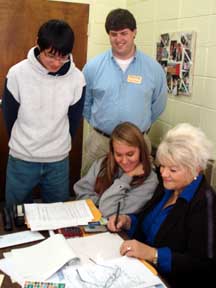 Cooper McCachren (standing at right), a recruiter with the Delta State University Admissions Office, visits with Delta Academy students, Taylor Pang and Crystal Garrard, and Twyla Gist, Academic Counselor at Delta Academy. The students were informed of the availability of a scholarship provided by the Graeber Foundation to assist students from Delta Academy in furthering their education at Delta State University.
Established at Delta State University in December 2005 by the late Lewis A. Graeber, Jr. of Marks, the Graeber Foundation Endowed Scholarship Fund provides scholarships for students enrolled at Delta State.
"The scholarships are available to current and former students of Delta Academy. Eligible students may enroll at Delta State upon graduation from Delta Academy or transfer from other higher education institutions and community colleges," said Twyla Gist. "We are very pleased to have four former students, Lakon Tate from Clarksdale, Kristen Smith, Laura White, and Lindsay Hudson, all from Marks, receiving a Graeber Foundation Scholarship at Delta State.
When making the gift in 2005 to endow the scholarship Lewis Graeber, Jr. stated "Delta State University is one of the best schools in Mississippi. Delta State provides the opportunity for a quality education to our children, and it is right here at home."
---
Continued Service: Pete Peden helps promote Delta State University
Dr. Michelle Roberts (at right), Vice President for University Relations at Delta State, delivers the Delta State commercials to Pete Peden, General Manager of Cable One in Cleveland
As Delta State University launches a new strategic marketing campaign, alumnus Pete Peden is doing his part to help disseminate the Delta State message. Peden is the General Manager of Cable One in Cleveland and the company has donated close to $100,000 worth of air time for Delta State since the fall of 2007.
A native of Bruce, Peden graduated from Delta State with a bachelor's degree in biology in 1963. He joined the locally-owned cable company in Cleveland in 1968 and has been there ever since.
"This is the 50th anniversary of cable operation in Cleveland," said Peden. "The company has made many changes over the years and I feel fortunate to have worked over 40 years here in Cleveland with the company.
Peden has always been a supporter of Delta State and in 1988 began a joint venture between DSU and then Warner Cable called "Delta Connection." "Throughout the years we have always been a community-minded organization and at that time we saw an opportunity to promote Delta State and the Delta State Foundation while also promoting Warner Cable," said Peden.
"Delta Connection" was an annual direct mail campaign that distributed over 30,000 brochures promoting Delta State class offerings, events, and sports while also advertising cable offerings. The cable company donated $5 to Delta State for every new cable hook up during the six-week campaign.
The "Delta Connection" was a successful fund raising campaign and continued operation until 2006. "In 2007 we decided to update our assistance to Delta State marketing efforts," said Peden. "We were able to do that through in-kind advertising, inserting the Delta State commercials in 12 – 14 cable networks throughout the state."
"Pete Peden is a wonderful example of the positive ways alumni can use their talents and resources to assist their alma mater," said Dr. Michelle Roberts, Vice President for University Relations at Delta State. "Pete saw Delta State's new marketing initiative as a way to update Cable One's giving efforts to Delta State in an area that was greatly needed by the university. Cable advertising costs were not a part of the university's budget at the time; however, it was an area in which we were very interested in exploring. Pete came up with the idea of modifying the "Delta Connection" program to meet the current advertising needs of Delta State. Because of his support, we are now able to reach 11 areas of the State, from Cleveland to Grenada and Batesville to Biloxi."
Peden has continued his service to Delta State throughout the years and currently serves on the board of directors of the Delta State Foundation. "I have had an allegiance to Delta State since I was a student and that has continued throughout my business career" said Peden. "At Cable One, we recognize Delta State's importance to Cleveland, the Delta, and the State, and we are proud to provide any support we can."
---
Delta State alumnus remembers former superintendent with scholarship


Frank Hough

We all have our favorite teachers, educators whose impact was so great it carried far past our childhoods and stayed with us much through adulthood. For Delta State University alumnus, Dr. Richard A. Collins, that man was Frank Hough.
Collins was so touched, so impacted by the teachings and philosophies of Hough, he and his wife, Barbara Collins, have established a scholarship through the Delta State Foundation in honor of the former Shaw Superintendent of Schools.
Hough held the post of superintendent for 35 years (1923-1958) and according to Collins, "seemed to have no ambition beyond total dedication to educating the children of this small, Delta cotton town (Shaw) in a manner which I believe to be unique and highly successful."
Collins continued of Hough's values, "The first task of his system was to cover 'the three Rs.' Until this task was accomplished, nothing else was of significance."
The disciplined framework he, himself, was reared in followed Collins far into his own educational career. A 1953 graduate of Delta State, Collins pursued his post graduate work at the University of Southern Mississippi before completing his doctorate degree at Southern Illinois University. He served as a professor of biology at the University of Central Arkansas before his retirement.
"As a professional educator for over 40 years, I have come to realize that Frank Hough was a school administrator with a wonderful vision for educating children in Shaw, Mississippi," Collins concluded. "I have yet to see a better educational system than the one he provided for these children. I will always be indebted to him."
He and his wife established the scholarship to be awarded to an incoming freshman based on financial need, as it was Hough's vision and educational system that caused many small-town and rural children to see a better life and to become educated in a manner that helped them achieve that better life.
For more information on establishing a scholarship or to make a gift to Delta State University, please contact the Alumni/Foundation office at (662) 846-4708.
---
Cleveland dentist celebrates forty-two years of providing dental care to needy Delta State students
Dr. Bob Ragan, of Cleveland, was recently recognized by the Delta State University Alumni-Foundation Office for his forty-two years of providing dental care to Delta State students.
Dr. Ragan provided his services to many students who were in need of emergency dental care or could not afford a dental procedure. The dental care he provided during those years has totaled approximately $110,000 in value.
"I am very pleased to help students and the University," said Ragan. "Delta State means much to our community and this is a way I can support the University."
Dr. Ragan, who attended Delta State, completed undergraduate studies at the University of Mississippi in 1960 and received his dental degree in 1964 at the Loyola New Orleans School of Dentistry, after which he spent two years as a captain in the Dental Corps of the United States Air Force.
He opened his dental practice in Cleveland in 1966. Dr. Ragan was named the 2004 recipient of the "William John Gies Award by the American College of Dentists," one of the highest awards in the dental profession. He also received the Gladys Castle "Friend of Delta State" Award in 2007 from Delta State'sNational Alumni Association.
"The Foundation encourages others to make gifts of service or products to the University, which are just as valuable to the University as gifts of cash, stocks and bonds or real estate," said Keith Fulcher, Executive Director of the Alumni-Foundation.
For more information on giving to Delta State University, contact the Foundation Office at (662) 846-4704 or e-mail foundation@deltastate.edu.