Please Note: The following are excerpts from oral history interviews conducted at Delta State University. In some cases they have been edited for length and clarity.
Dr. Eleanor Walters interviewed by Tara Zachary on 11/2/99
Dr. Walters: . . . Daddy believed in putting aside money for everybody's college fees. I used that. I probably wouldn't been able to go to school if it hadn't been for that in that particular time because that was back in the depression years. I entered Delta State in 1930.
Ms. Zachary: What do you remember about the depression?
Dr. Walters: Well I just remember that money was real tight. You didn't have a lot of extras. You were very careful with what you had. . . In those days, college students could get into a movie for twenty-five cents . . .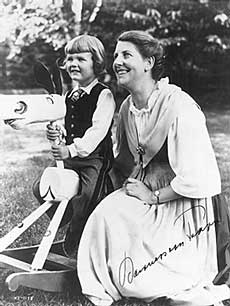 An autographed photo of Baroness Von Trapp signed at Delta State
Dr. Walters: . . .Then when I came back to teach, the first year I was there, the fall quarter of 1943 the Von Trapp Family did their . . .american program at Delta State on a Friday night. The Baroness and the girls stayed in Cleveland Hall, and I was living in Cleveland Hall at that time because when I came back here to teach their was no residence hall for women teachers at Delta State. Cassidy Hall hadn't been built. It wasn't built until 1950. Women teachers had a lot of difficulty finding a boarding place in Cleveland. They would take men, but they didn't want women. I guess they thought they would be around under their foot too much. I lived in Cleveland Hall my first years of teaching. I was on duty that weekend because Ms. Crawly, the housemother, had the weekend off. I took one weekend a month, and kept office. So the Baroness and I spent all day Saturday in the office together. I just had the best time talking to her. She didn't look anything like the one who played in the Sound of Music. She was kind of older and a heavyset person. She was a lovely person. Father Rotunda had made arrangements to have his regular service early that Sunday so that the Trapps could have access to the church because they traveled with a priest. So when she started to leave the building at ten o'clock, she came in the office, and she said, "Would you like to go with us?" I said, "Will that be alright?" She said, "Yeah, we would like to have you." So I ran upstairs and got my hat because those days you didn't go to a Catholic Church without a hat on. We walked down to the church. They did the entire mass. They sang the entire mass. Father Rotunda, the Catholic priest here, and Mary Katherine Gerald who was member of that church and on the faculty at Delta State and I sat there. We got to hear the Trapp family do an entire mass. I will never forget it. It was the most memorable experience I had ever had. . . It happened right here in Cleveland . . . I have been over in Austria, and seen the route that they took. I have been by the convent that helped them get out. They show it in the movie, The Sound of Music.
John and Lynn Caylor interviewed by Anna Long on 6/9/00
Mrs. Caylor: . . . There are too many lights here. I don't know what the dating couples do. Of course we couldn't go off in cars like they do now. East end of Cleveland Hall didn't have a whole lot of light. When that cute little old man, old shriveled up man who was the night watchman came around the corner and saw John and I sitting there. He would just turn and go back. He didn't bother us. That was a nice place. Every night you could find some couple out there on those steps because it was not quite as bright.
Martin King interviewed by Joseph Biogoli on 10/25/99
Mr. King: . . .The girls had to be in at ten-thirty. Each Wednesday about ten a.m. there was an assembly period in the old Broom auditorium. It held all of us. You were encouraged to attend the assembly. There was a whole lot of cutting going on there. Everybody wouldn't go. That is when Dr. Kethley laid his sap rising speeches. You look like you haven't heard this before. In the spring when the leaves begin to bud out on the trees, he was a jewel. He would stand up there, and he would say, "Now children, your mamas and papas sent you up here for me to take care of." I know the birds are singing, and I know the leaves are coming out on the trees. You boys and girls are looking at each other like you haven't ever seen each other before. He said, "The saps is rising." He would warn you about all these little pit falls that you might run into. We called it the annual Sap Rising Speech. He was good.
Hugh Walker interviewed by Don Hendon on 10/11/99
Mr. Walker: . . . Intramurals were important as they are now. I enjoyed that. Movies were big then. We had three movie theaters in Cleveland . . . We had to walk to them because nobody had a car. We used to go to movies all of the time. It was about the only thing you had to do.
Mr. Hendon: Were there any rules or conduct, behavior, curfew, visitors, or dress that you remember? How did you feel about them?
Mr. Walker: Well because there was so many you didn't think too much about them. You just took them for granted and worked around them. Not too many restrictions on the boys, but there was a lot on the girls. I know the girls couldn't go out. They couldn't even leave the dorms at night, but maybe only twice a week. The place that we met up to see our girl friends was the library. They could go to the library, but that was it. They were restricted as to getting into cars. You couldn't ride around in a car until you were a senior. Everywhere we went, we had to walk. We would walk to the movie, and all that kind of stuff.
Mr. Walker: We had a lot of things scheduled out here on campus. We had a lot of dances. One thing that the physical education club did was we had square dances. They really were a lot of fun. We went to the movies. I supported the athletics. We had plays. The Delta PlayHouse would have plays from time to time. I would say at least once every quarter. Various groups would come in and perform like in the Bologna Performing Arts Center.
Mr. Hendon: Speaking about dances, how did you dress? Who were the bands? Was there drinking? Were their chaperones?
Mr. Walker: At that time everybody wore coat and tie. Nobody would wear a suit. You would go casual. Maybe twice a year we would have a formal dance, and we would wear tuxes. The girls would wear long dresses. One of the bands that came quite frequently came out of Vicksburg was called the Red Tops. They are still reknown in Vicksburg even today. I don't think drinking was quite as prevalent then as it is now. Yes we did have people there to look after us.
Mr. Hendon: Could you tell me where you all went on your dates?
Mr. Walker To the movies.