You never know what you will encounter in a class at Delta State. As this student reveals, there is an area available to suit every type of academic and artistic need. The number of disciplines has increased with time and the institution still continues to grow today. Below are some examples of deparments that have made up Delta State's rich student experience.
The first library on campus was located in a room in the Hill Administration Building. The room housed 1,008 volumes and 22 magazine subscriptions. Later, Roberts Memorial Library was located in what is now the Fielding L. Wright Art Center from 1939 – 1968. Pictured on the left behind the counter is Eleanor Harkins, Head Librarian. In 1968, a new building was constructed and was still named for W.B. Roberts. The library underwent a 9 million dollar renovation in 1999.
Technology is becoming an increasingly important aspect of higher education. In 1967, Delta State installed its first computer. The photo below shows an instructor giving students a demonstration of the new computing center. Bulky systems of the past have given way to smaller and more powerful devices. Distance education and remote electronic resources are becoming the norm, and Delta State will strive to meet these digital age needs.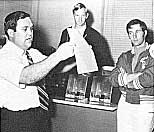 Creative arts play an integral role in any college education. Students at Delta State have had a wide range of opportunities to express their creative abilities. Some have preferred a more physical approach such as interpretive dance, while others have created objects of art through sculpture or design.

Presidential Medallion designed by Edward Gong, DSU Art Major