2011 Events
BBQ Joints:
Stories and Secret Recipes
from the Barbeque Belt

On Display: 16 September – 26 November 2010

Charles W. Capps, Jr. Archives & Museum Building, main gallery

How exactly do you spell BBQ?

Barbecue. Its taste, textures and smells pull at a Southerner's heart strings like nothing else. Its various forms bring about as much debate as national elections – Dry vs. Wet, Pulled vs. Shaved, and on and on.

Throughout his research and subsequent published work, David Gelin set out to capture the essence of a time-honored and passed down tradition of creating southern barbecue. Barbecue is unpretentious, but at the same time held in high regard. Family recipes are highly guarded secrets while the fare itself is openly offered.

It has been called the South's 'most democratic food' being cooked, served and eaten by all classes of people. From political stumps to church yard gatherings, barbecue has held a central role in many of the South's grandest traditions.

Delta State University Archives & Museum will present the exhibit, BBQ Joints: Stories & Secret Recipes from the Barbeque Belt from 16 September through 26 November. Throughout the exhibit, the art of southern hospitality, of extending kindness with the passing of a plate of barbecue, is as entwined in this story as the smoke in the flavor of the barbecue.

The experts agree that Gelin's work focuses on the essence of barbecue and its place in Southern culture.

"…a consensus of excellence is not this author's intent. He aims instead for a family portrait of Southern barbecue, and he delivers as much." -John T. Edge, Author of Southern Belly: The Ultimate Food Lover's Companion to the South

"With so many ways to spell it, inconsistency just comes with the territory," states Gelin explaining that whether you start with smoky logs in a cast-iron cooker or a pit in the ground, whether it is doused with a sweet or savory sauce or dusted with a dry rub, the choice for determining 'good barbecue' is strictly subjective. Through his book and in the exhibition of the same title, BBQ Joints: Stories and Secret Recipes from the Barbeque Belt, you are invited to take a look around the South at some of his chosen stops, evaluate for yourself and consider your history with the 'cue.

_________________________________________

Opening Reception & Lecture by David Gelin:

16 September @ 5:30 pm – Lucy Somerville Howorth Seminar Room, Capps Archives & Museum building. A selection of BBQ will compliment the lecture presentation. This event is free and open to the public.

Lunch & Learn with Amy Evans Streeter

5 October – Lucy Somerville Howorth Seminar Room, Capps Archives & Museum building

A selection of BBQ will compliment the lecture presentation.

Movie Night! Fried Green Tomatoes

6 October @ 7pm – Recital Hall, Bologna Performing Arts Center

The Politics of BBQ:
Lecture presentation by Charles Westmoreland
13 October @ Noon – Lucy Somerville Howorth Seminar Room, Capps Archives & Museum building
2010 Events
Nature of the Delta: Photography of Patty Smith

On Display: 1 April – 31 May 2010

Charles W. Capps, Jr. Archives & Museum Building, main gallery



Photo courtesy of the Tunica Times

Patty Smith, a native of Helena, Arkansas, brings her photography collection to the Capps Archives this spring. Smith, a retired educator and self-taught photographer, offers up her collection of 50 photos, which showcase the majesty of Delta wildlife. Smith began photography as a hobby after being forced into retirement due to an illness, and is now receiving recognition for her artwork. Her work was featured in the 2009 Mississippi Outdoors calendar published by the Mississippi Department of Wildlife and Fisheries.
A Compassionate Eye: Photography by William Anderson
7 February – 30 April 2010
For the past four decades, driven by nostalgia and humanitarian concerns, Atlanta photographer William Anderson has documented life among African Americans in the Southeast. His subjects are sharecroppers, rural families, worshippers in ecstatic religious ceremonies and others of humble origin who remind of his childhood in Selma, Alabama. Whether telling a story, attempting to reveal a hidden truth, or celebrating the beauty of human life, Anderson's aesthetic sensibility and iconographical themes combine to make a contextualized tapestry of black life. With an intensely, compassionate eye, his images reveal the history of the African American struggle for self-determination.
Widely exhibited, Anderson's black-and white photographs have been acquired by numerous prestigious museums, including the National Gallery of Art, Yale University Art Gallery, Bodleian Library at Oxford University in England, the High Museum of Art, Wadsworth Antheneum Museum of Art, and the J. Paul Getty Museum. He recently retired as an associate professor at Morehouse College and is a sculptor, painters, printmaker, and musician as well as a photographer.
Lunch & Learn Lecture – Dr. John Green
Views from the Grassroots: Disaster & Community Building on the Mississippi Gulf Coast
19 January 2010 @ noon
Capps Archives & Museum Howorth Seminar Room
2009 Events
Backyards & Beyond: Mississippians & Their Stories The First Year After Katrina
4 November 2009 – 31 January 2010
Charles W. Capps, Jr. Archives & Museum Building, main gallery





Backyards & Beyond: Mississippians & Their Stories
Guided Tour by HC Porter and Karole Sessums
15 November 2009 at 2:30pm
The artists will give personal details and insights about selected painting, behind the scenes of creating the exhibition and being in the field doing the documentary work, the stories behind the subjects in the paintings and a personal understanding of the portraits. HC Porter and Karole Sessums will be available to sign copies of their book.

A Treasured Past: An Exhibit Honoring LePoint Cassibry Smith
Lucy Somerville Howorth Award Recipient
11 – 30 October 2009
Charles W. Capps, Jr. Archives & Museum Building, main gallery
Student Voices: Civil Rights Demonstrations at Delta State 1969
18 – 30 October 2009
Charles W. Capps, Jr. Archives & Museum Building, 2nd Floor lobby
Seen by Jane: Photography by Jane Kerr
16 November 2008 – 16 January 2009, Capps Archives Main Gallery
Neglected Histories: The Importance of Preservation
25 September – 19 December 2008, 2nd Floor Lobby
Pictures from the Past: A Celebration of MS Delta Chinese History
Opening Reception 7 September at 3:30 pm
7 September – 3 November, 2008
"What It's Like Being Chinese Where Everyone Else is Black or White"
A Lecture by Dr. John Jung, author of Southern Fried Rice
7 September 2008 at 2:00 pm – Jobe Auditorium
Bring along your favorite tea cup and saucer as we enjoy a pleasant Sunday afternoon entertained and enlightened by Mrs. Princella Nowell
Sunday, April 6, 2008 at 2:30 pm – Capps Archives & Museum back patio
Co-hosted by The Division of Family & Consumer Sciences and The Delta Center for Culture and Learning
Collectors Collections on Display
Doe's Eat Place 27 March 2008, 5:30 pm
The Bourbon Mall 13 February 2008, 5:30 pm
Collectors Collections On Display: Opening Reception
Vintage Greetings from the Delta
15 November 2007 – 15 February 2008
"Vintage Greetings from the Delta: A Display of Historic Greeting Cards & Postcards"
This exhibit will display an older variety of special holiday cards, from Thanksgiving to Christmas to Valentine's Day and Easter. Deltans enjoyed keeping up with each other and this exhibit will show some of the lighter sides of their correspondences.
15 November – 15 February 2008
Opening Reception 15 November 2007 at 6:00 pm
Cleveland's Historic Neighborhoods Exhibit
In cooperation with the Cleveland Heritage Commission, this exhibit is a collection of memories, photographs, and other memorabilia of those who live or once lived on Pearman, Bolivar, and Leflore streets.
9 October – 18 December 2007
The Political and Social Context of the Bungalow Home, 1890-1990
A lecture by Dr. Martha Swain
9 October at 6:00 pm, Howorth Seminar Room
Turkish Delights: A DSU Student Art Show
Exhibit features artwork created by Delta State students who participated in an academic class held in Turkey. Approximately 60 images and video media will be on display throughout the exhibit period. This exhibit will be located in the side galleries adjacent to the main gallery.
23 September – 31 October 2007
Opening Reception 23 September 2007 at 2:00
Everything New is Old Again
Come enjoy recent donations to the Archives and Museum.
August 9, 2007 – October 31, 2007
History, Heritage & Culture: What Do They Mean to Us?
A lecture by Dr. Jack Elliott
City Grille – 20 October 2007 (following tour historic homes and places of Como, MS)
Lillo's – 25 September 2007
Madidi – 18 September 2007
How Joy – 20 February 2007 (Chinese New Year)
Delta State's School of Nursing: Past, Present & Future
Opening Reception 10 April 2007 at 6:00 pm
In Their Own Words: The Story of Delta Black Farmers
A Lunch & Learn Lecture
29 March 2007 at 12:00 pm – Howorth Seminar Room
In Their Own Words: A History of Delta Black Farmers
13 February – 30 March 2007
Opening Reception 13 February 2007 at 6:00 pm
Mississippi Delta Chinese
11 January through 30 March 2007
Opening Reception 11 January 2007 at 6:00 pm
Students, Soldiers & Veterans: Delta State During the War Years
21 October 2006 – 31 December 2006
Historic Delta Courthouses
15 September – 22 November2006
Blue Parrot – 10 October 2006, 5:30 pm (following tour of Greenwood Courthouse)
Doe's Eat Place – 24 October 2006, 5:30 pm (following tour of Greenville Courthouse)
Bourbon Mall – 23 March 2006, 6:00 pm
Blue Levee Café – 9
March 2006, 6:00 pm
Disaster Recovery Workshop
Sponsored by the Mississippi Department of Archives & History, this free workshop will provide information on best practices for recovering manuscript, photographic and other types of materials after a disaster.
July 16, 2006 – Howarth Seminar Room
"From What We Can See…"
Images on display from the art students in the Documentary Photography class at Delta State.
27 April – 31 August 2006
Archives & Museum White Glove Tea
In celebration of "The Year of Cleveland" the DSU Archives & Museum is hosting the Archives White Glove Tea. This tea should have all the elements essential to southern teas of the past. Who would not enjoy delicate sandwiches and other refreshments served by local hostesseses, welcomed by Mrs. Vicki Fioranelli and entertained and enlightened with a presentation presented by Dr. Edith McMillen?
9 April 2006 at 2:30 pm – Capps Archives back patio
FREE workshop sponsored by Clarksdale Carnegie Public Library and DSU Archives & Museum brings us Professor Mike Brubaker of the Atlanta History Center's Kenan Research Center. Professor Brubaker will offer guidance and assistance as he demonstrates the best techniques for genealogists. Lunch on your own followed by internet instruction in the Robets-LaForge Library's Blibographic Room on the first floor.
April 4, 2006 at 9:30 am – Capps Archives, 3rd floor classroom
Vanishing Delta – A Photo Exhibit
As Deltans, sometimes we do not recognize the subtle changes that come over time. Photographer Debra Ferguson has seen the Delta through her photo lens for several years. Now she has prepared an exciting exhibit of images she has collected of Delta landscapes that have changed slightly or dramatically over the years. Visit the exhibit that documents the gradual changes and groth of Bolivar County and the surrounding Delta.
Opening reception 26 March at 3:00 pm
Greenville photographer Ralph Jones' photography exhibit of Delta bluesman, Boogaloo, captured through performances throughout the Delta.
Opening reception 2 March 2006 at 6:30 p.m.
To coincide with "The Year of Cleveland," local citizens share their personal collections with the Archives & Museum. On display are collections of teapots, Boy Scout badges, cuff links, miniature porcelain figurines and more! Viewer's Choice Awards were given to Mr. Hugh Gamble for his cuff links collection, Dr. Myrtis Tabb for her glass art collection and Mr. Robert Montesi for his Boo Ferriss collection.
Opening reception 26 January 2006 at 6:30 pm
26 January – 3 March 2006
Toys! — A Playful Delta History
This exhibit explores the history of children's toys from around the Delta. Displays of toys, photographs and stories are highlighted by loans from the Jim Henson Museum and Sharkey-Issaquena Public Library's "The Great Delta Bear Affair" memorabilia.
Opening reception 11 November 2005 at 7:30 am, in conjunction with the Veteran's Day presentation
11 November 2005 – 6 January 2006
Using newspapers, photographs and letters, the Emmett Till story is retold from the perspectives of the people who lived through it.
Opening reception 27 August 2005, with a panel discussion led by Dr. David Beito
27 August – 9 September 2005
Mississippi's Ten Most Endangered Places
27 August 27 – 7 September 2005
The Delta Photo Road Show: A Save Our History Project
The Mississippi Delta has a rich heritage composed of diverse stories. Fortunately, there remains photographic evidence of many of these stories, but unfortunately, many of these photographs have never been made public. In an attempt to preserve and publicize historic photos from the Delta, the "Delta Photo Roadshow" was held on April 2, 2005. The event was organized by The DSU Delta Center for Culture and Learning, as part of the Lighthouse Arts & Heritage Program presented through the Cleveland D.M. Smith Middle School. Modeled after the popular PBS program Antiques Roadshow, the project paired the students with professional documentary photographers and scholars who helped them discover stories related to the photographs. The most compelling images were scanned into digital forma and matched with oral history interviews that the Lighthouse students conducted onsite with the owners of the original photographs. In all, 12 participants submitted more than 1000 photographs, over 200 of which were preserved digitally. They range in subjects from turn-of-the-century logging operations to 1930s fishing drives to sharecropping cotton. A fraction of these photographs have been included in this exhibit, telling several heritage stories about the land and people of the Mississippi Delta. These and others will be included in a pictorial history booklet to be published in June 2005. After these images were collected, the D.M. Smith students under the guidance of Lighthouse art instruction Catherine Koehler spent several weeks colorizing photocopies of them with colored pencils and watercolors. The colorized images were then cut out and place in collages according to seven different themes: Education, Recreation, Portraits, the Delta as Frontier, Transportation, Industry and Agriculture, and Delta Life. An exhibit of this artwork was presented at the Charles Capps, Jr. Archive and Museum in May of 2005. This project was funded by a grant of $10,000 from the History Channel to The Delta Center for Culture & Learning, in collaboration with the Capps Archives. As an initiative of the Delta Center, the Lighthouse Program uses Mississippi Delta heritage and the arts to engage Bolivar County youth. The Delta Center's mission is to promote the history and culture of the Delta and its significance to the rest of the world, and the after-school program is one way the Center accomplishes that mission. The program is also designed to increase community involvement among Delta State students. College students in service-learning courses at Delta State volunteer as tutors and art interns in the program and also participate in some of the heritage workshops. The Lighthouse Program is funded through an ongoing grant from Learn & Serve America. Arts instruction is provided by Communities in Schools of Greenwood-Leflore The Partners in this project would like to thank the photographers and scholars who served as jurors: Barbara Andrews, Director of Curatorial Services of the National Civil Rights Museum; David Darnell, Chief Photographer at the Memphis Commercial Appeal; Lynn Linnemeier, an Atlanta artist and graduate student at the Center for the Study of Southern Culture; Greenville photographer Ralph Jones; Brooke White a DSU art professor in digital photography; an Jaman Matthews, a graduate student in folklore at UNC-Chapel Hill.
When They Were Strangers at Our Gates: Tracy Sugerman Illustrations & Photographs of Freedom Summer 1964
20 January 2005 – 4 March 2005
Dr. Jerry Ward – 10 February 2005
Jessica Crawford "Prehistoric Indians in the Delta" – 6 October 2004

African American Life Histories: The Oral & the Written
Capps Archives, Howorth Seminar Room
The speaker examines views of twentieth-century life in Mississippi as it is represented in oral history from the Delta and the life stories of Richard Wright, Ann Moody, Clifton Taulbert and Endesha Ida MaeHolland.
Key Ingredients: America by Food
The food on the American table may not define exactly what we are as a nation, but the traditions surrounding out foods speak volumes about who we are. "Key Ingredients: America by Food," a new Smithsonian traveling exhibition, delves into the historical, regional and social traditions that merge in everyday meals and celebrations of the American table.
20 November 2004 – 9 January 2005
Come explore the Delta through our rich culinary histories.
23 September – 13 November
A Cabinet of Curiosities Exhibition
The Delta's local history slips away with each passing day. A Cabinet of Curiosities exhibits an array of local history pieces that are being collected and preserved by the Delta State University Archives and Museum. From early Delta State University faculty, staff and student memorabilia to scenes of early Cleveland and journals kept of Deltans as they traveled to Europe in the early 1900′s, this exhibit focuses on the importance of collecting and preserving our local history through artifacts, manuscripts and images.
Delta Scenes Revisited: A Photographic Exhibit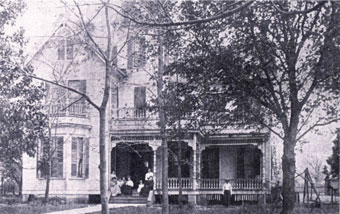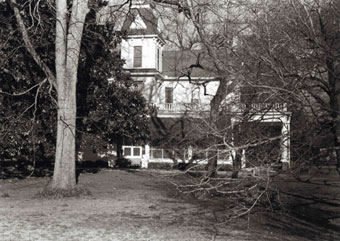 On the left is the Rosedale home of Walter Sillers in 1907, and on the right, the home as it stood in 2004.
Delta State's Men: A Presidential Exhibit
Established by an act of the Legislature in 1924, Delta State Teachers College officially opened its doors on 15 September 1925. For over seventy-five years, Delta State has provided superior educational enrichment for thousands of students. Faculty, staff and students have created the rich history of Delta State under the guidance of each president. In honor of the inauguration of Dr. John M. Hilpert, the seventh president of Delta State, Delta State's Men: A Presidential Exhibit highlights each of the seven presidents who have served and continue to serve Delta State.
Please visit our virtual web exhibit located on the Archives Home Page.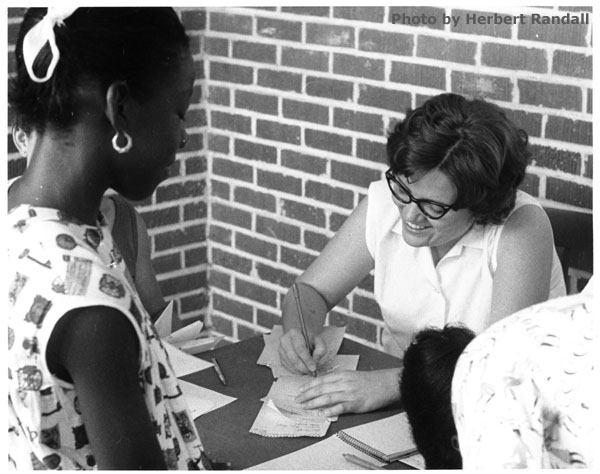 The summer of 1964 represents a watershed year for Civil Rights progress in Mississippi and one that thrust the state into the national spotlight. Volunteers from throughout the country joined Mississippi residents in efforts to supplement the inadequacies of segregated black public schools with basic education, as well as with classes in subjects not normally taught in these schools. Freedom Summer volunteers also provided instruction in government and encouraged adult members of the black community to register to vote. Not all Mississippians welcomed outside volunteers to the State. Individuals were harassed and the Freedom Schools meeting sites were often targets of vandalism and threatening activities.
1 February – 31 March 2004
Faces of Freedom Summer Accompanying Programs
Exhibit Opening featuring Panel Discussion with Senator David Lee Jordan,
Mrs. Thelma Barnes, and Mr. Charles McLaurin, moderated by Dr. Luther Brown, Director of theDelta Center for Culture and Learning
Film Screening: Ghosts of Mississippi and lecture lead by Dr. Luther Brown of the Delta Center for Culture and Learning
7 February 2004, 12:00 pm – 4:00 pm
Civil Rights Sights in the Delta: Bus Tour
Lead by Dr. Luther Brown and Dr. Henry Outlaw of the Delta Center for Culture and Learning
Points of Interest include such towns as Greenwood, Money, Ruleville and Cleveland. This event is free and open to the public. Sponsored in part by Student Services and Office of the Provost.
13 February 2004, 12:00 pm – 1:15 pm
Brown Bag Lecture featuring Mark Schneider, Former Civil Rights Worker, with special introduction by Dr. Garry Jennings, Director of The Madison Center
17 February 2004, 12:00 pm
Race Relations and Reconciliation in Mississippi
Brown Bag Lecture featuring Governor William Winter, with special introduction by Dr. Garry Jennings, Director of the Madison Center

19 February 2004, 7:00 pm – 9:00 pm
Film Screening: Emmett Till Documentary
Lecture lead by Dr. Luther Brown, Director of the Delta Center for Culture and Learning
26 February 2004, 7:00 pm – 9:00 pm
Film Screening: Eyes on the Prize
Lecture lead by Dr. Luther Brown, Director of the Delta Center for Culture and Learning
4 March 2004, 7:00 pm – 8:30 pm
Race Relations in the Delta
A lecture by Dr. Matthew Holden, Doherty Professor of Politics at the University of Virginia
25 March 2004, 7:00 pm – 9:00 pm
Presentation and Panel Discussion with Local Civil Rights Activists
DSU hosts Dunlap Broadside: The Declaration of Independence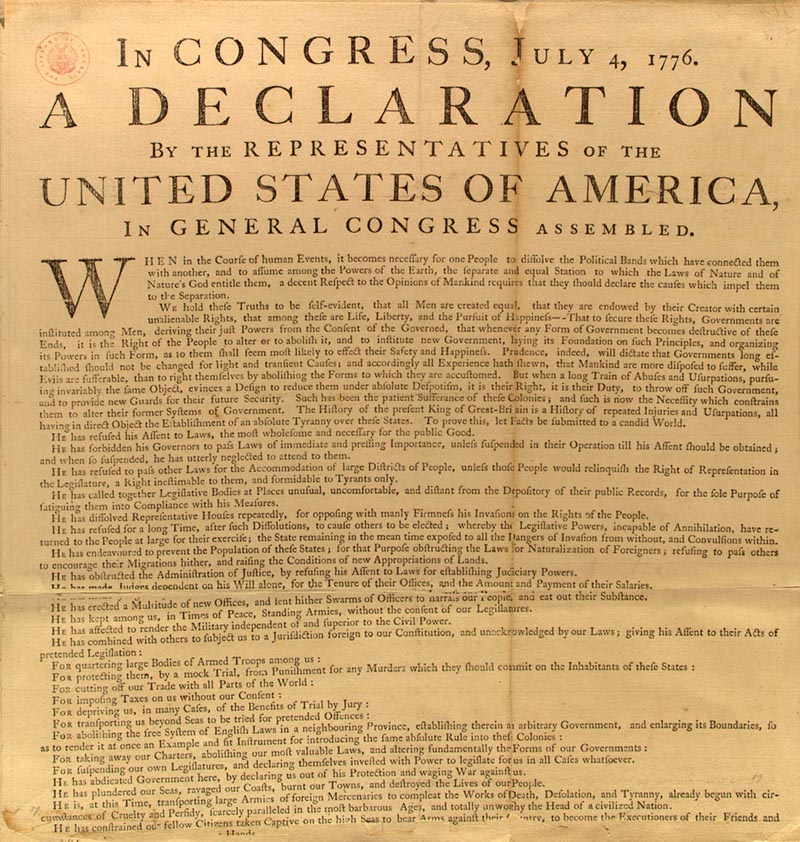 9:00 – Welcome and Introductions
9:05 – Girl Scout Troop 298 presents American Flag and Pledge of Allegiance
9:10 – National Anthem presented by Phi Mu Alpha Sinfonia
9:15 – Dr. Garry Jennings, Director of The Madison Center, on the history of the Declaration of Independence
9:30 – Presenters read the Declaration of Independence
Presenters include:
Dr. John Hilpert, DSU President
Representative Charlie Capps
Father Tom Lalor, Our Lady of Victories
Dr. Mary Alice Cates
Dr. Bo Morgan, History Department Chair, DSU
Dr. Mark Bonta, Associate Professor of Geography
Mr. Henry Phillips, West Bolivar Schools Superintendent
Judge John L. Pearson
Judge Gwendolyn Thomas, Youth Court Judge, Cleveland
Principal Luckett, Principal, East Side High School, Cleveland
Undergraduate associates of The Madison Center will be on hand to assist in the voter registration process. Special thanks to the Boy Scout Troop 23 for their volunteer services.
14 February 2004 from 9:00 am – 1:
00 pm
2003 Events
Life in the Yazoo-Mississippi Delta, 1865 – 1900
This exhibit features items from the DSU Archives' collections. The collections drawn from include the Boyd-Walters-Bobo and Gibert-Knowlton Lytle Family Papers, The Milburn Crowe-Mound Bayou Collection, The Eugene Leftwich Collection and Doro Plantation artifacts.
Opening Reception 7 September 2009 at 2:00 pm, with special guest speaker Dr. Tom Boschert, Professor of History at DSU
7 September 2003 – 19 December 2003
Daily Lives: Peasant Art of China
Opening Reception 2 March 2002 at 2:00 pm, with guest speakers Edward and Sylvia Krebs, who are responsible for bringing the exhibit to Delta State.
March 2 – April 11, 2003

Lucy Somerville Howorth Award Presentation
This year's Lucy Award honoree is Mrs. Keith Dockery McLean. She will be honored at a special program on Sunday, March 23, at the Capps Archives and Museum. The program begins at 4:00 pm in the Howorth Seminar Room.

Exhibit honoring Mrs. Keith Dockery McLean
Will be on display in museum side room
March 23 – May 2, 2003
2002 Events
The Hooks Brothers Collection: A Portrait of 20th Century African-American Life in Memphis, Tennessee
Opening Reception 3 Octorber 2002 at 12:15 pm
September 15 – December 13, 2002
Brown Bag: Ed Frank, from the University of Memphis
Speaking on the City of Memphis in the 20th Century
Thursday, October 10, at 12:15 p.m.
Brown Bag: Peter Palmer, from the University of Mississippi
Speaking on The Memphis Fire and Police Strike of 1978
7 November 2002 at 12:15 pm
Brown Bag: Dr. David Beito, from the University of Alabama
Speaking on the Taborian Hospital in Mound Bayou.
Dr. Beito will also be available to sign copies of his book From Mutual Aid to the Welfare State: Fraternal Societies and Social Services, 1890 – 1967.
A Plant and Animal Survey of the Mississippi Delta: The National Youth Administration Project, 1936-1938.
Opening Reception 9 September 2002 at 2:00 pm, guest speaker will be Dr. Sam Faulkner, Professor of Biology and Environmental Sciences.
9 September 2001 – 15 March 2002
Produce For Victory: Posters on the American Home Front, 1941 – 1945
This exhibit, which includes 26 reproductions of World War II posters, examines how posters circulated by government and private organizations were key to mobilizing and maintaining stateside support for the war effort. The posters are drawn from the collection at the Smithsonian Institutes' National Museum of American History in Washington, D.C. The exhibit is made possible through the partnership of the Smithsonian Institute and the Mississippi Humanities Council.
Opening Reception 5 April 2002 at 6:30 pm, featuring Live Big Band Music
April 5th – May 18th, 2002

Brown Bag: Hollywood Goes to War
Dr. Brian O' Neil, film historian at the University of Southern Mississippi, will lecture on Hollywood's role in the War effort.
8 April 2002 at 12:10 pm


WWII Film Series
We introduce our WWII Era Film Series, which will continue for the duration of the Produce for Victory Exhibit. Films and dates are listed below. All movies begin at 6:30 and will be shown in the Howorth Seminar Room at the Capps Building on a large screen.
9 April – Sergeant York, 1941. Starring Gary Cooper.
16 April – American Heroes of WWII: Tuskegee Fighter Pilots and Black Wartime Radio
23 April – Casablanca, 1942. Starring Humphrey Bogart and Ingrid Bergman
30 April – Since You Went Away, 1944. Starring Claudette Colbert, Shirley Temple & Lionel Barrymore.
7 May – D-Day to Berlin

Brown Bag: German POWs in the Mississippi Delta
Participants in the Archives' recent oral history project concerning the POW camps here in the Delta during WWII will speak about the camps. The project was funded in part by the Mississippi Humanities Council. The lecture begins at 12:10 in the Howorth Seminar Room in the Capps Building. Refreshments provided.
7 May 2002
2000 Events
"If It Ain't Seasoned, It Ain't Much of Anything" (2000)
According to a description of Lebanese cooking by Queenie Nassour of Vicksburg "If it ain't seasoned, it ain't much of anything." That idea is applied to the cultural diversity of Mississippi in a traveling exhibit of the same name from the Mississippi Department of Archives and History.
"Dear Miss Virginia. . ." (2000)
Hundreds of men and women, students and faculty, from Delta State joined the war effort during 1941-1945, and Virginia Thomspon, or "Miss Virginia," as the students called her, corresponded with many of them, keeping them updated on each other and their alma mater through her letters and newsletters. A selection of this correspondence is on display at the Capps Archives and Museum Building in the exhibit "Dear Miss Virginia." In addition to the letters, occupation money, foreign and military newspapers, photographs, clippings, and postcards are included.