About Government Information – Federal




Knowledge will forever govern ignorance. And people who mean to be their own govenors, must arm themselves with the power knowledge gives. A popular Government without popular information or the means of acquiring it, is but a Prologue to a Farce or a Tragedy or perhaps both.(James Madison. Letter to W.T. Berry, August 4th, 1822.)
Government Information

The Roberts-LaForge Library Webpage about government documents (/pages/788.asp) will lead you to link to different government agencies and other federal data you could use in your research. This page can be used as a shortcut to find specific information.
Federal Information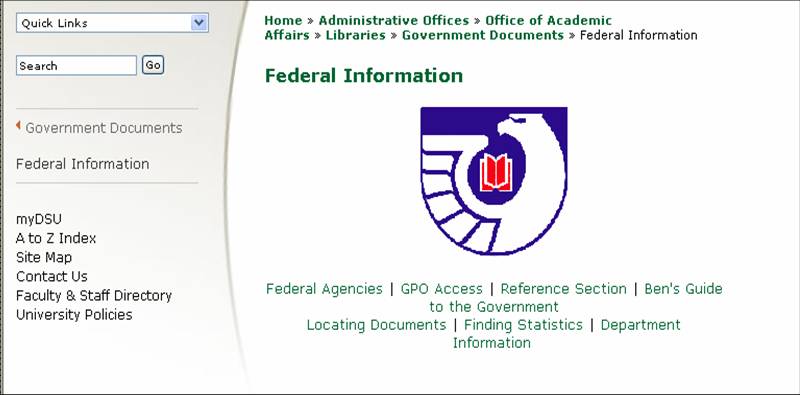 When you click on the Federal Information link, you will be taken to a page that will break the information down into simplier bites. I would advise you to spend time at this site, testing each link and discovering where it will lead you.
Depository Library

Designated as a Federal Depository Library, Roberts-LaForge Library provides a gateway to government information for Delta State University as well as the Cleveland community. The Library receives approximately 29% of government publications distributed through the Federal Depository Library Program (FDLP) of the Government Printing Office (GPO). The collection, consisting of material from all functions of the government, reflects the interests and research needs of the academic and local communities.
Government Publications

Why is this important to you for research?

Unfortunately, government publications are overlooked by students, but they do provide a wealth of statistical data, educational research, environmental studies, wellness and health information, Congressional Documents, consumer information, educational pamphlets, Supreme Court decisions, and much more. This may surprise you, but the Library of Congress (http://www.loc.gov/index.html), the Smithsonian (http://www.si.edu/), and the National Gallery of Art (http://www.nga.gov/) are government publishers as well!
Cataloging

Federal Publications have their own classification scheme.The U.S. Government has its own system. It is called the Superintendent of Documents classification. Each document is assigned a SuDocs number by the Government Printing Office, which is responsible for coordinating the Federal Depository Library Program. What makes the SuDocs number so different from the other classifications is that it is based upon the issuing agency, not the subject of the document!
Government Printing Office

The Government Printing Office (http://www.gpo.gov/) of the United States is one of the most prolific publishers in the world; information on almost any subject can be found in the U.S. Government Publications. Types of government publications include:

Primary sources, such as Congressional hearings, legislation, acts and treaties
Statistical information, such as U.S. Census Reports or the Vital Statistics of the United States.
Agency reports
Reports of special commissions
Journals and bulletins
This is only the beginning of what you have access to through the GPO.
Conclusion

This tutorial is just a very short overview of what the government has to offer online. I think you will learn the most about Federal document when you begin using the information in your research.
Maintained by Library Services.