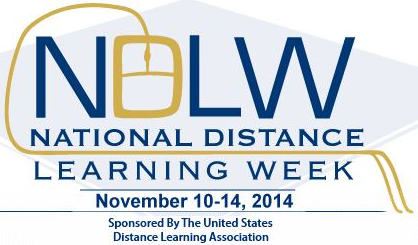 OIT Celebrates National Distance Learning Week
The Office of Information Technology (OIT) at Delta State University will be celebrating National Distance Learning Week November 10-14, 2014 with activities throughout the week.
Sponsored by the United States Distance Learning Association, National Distance Learning Week is an annual effort to recognize and celebrate the accomplishments of distance learning programs, as well as recognize field leaders and best practices. Because of the distance programs offered at Delta State, thousands of students across the region have accessed courses and class materials to help them meet their educational goals.
In recognition of 2014 National Distance Learning Week, OIT invites you to celebrate the University's accomplishments and commitment to excellence in distance education by participating in the following activities:
Monday, November 10
Student  Selfie Contest Opens
Students submit photos in DSU gear working in a course on Canvas or connecting to DSU campus network using a personal device (eg. iPads, laptops, and smartphones) to win one of these awards: 1) Spirit of Learning with Technology and 2) Connecting with OIT. A panel of judges consisting of DSU faculty and OIT staff will select the winning photos based on specific criteria including creativity, originality, and Winners receive a $25 WalMart giftcard.
Faculty Photo Booth
Drop by the office and get your profile picture taken for your Canvas course. We'll resize the image to the perfect pixels and place it in your Canvas course template and/or instructor files.
9:00am-12:00pm and 2:00pm-5:00pm
Bailey 114
Tuesday, November 11
Speed Geeking 101 for Faculty and Staff
Want to know more about how technology has enhanced distance learning at DSU, but don't have a lot of time? Then speed geeking may be just the thing for you! In 30 minutes, experience three mini-sessions on instructional technology supported by OIT and that support distance education. Join us for a coffee break or tea break by picking a session based on your interests and needs. (Held in Bailey 114.)
Creative Coffee Break at 9:00am and 10:00am. Session lasts 30 minutes. In three 10 minute sessions, you can:
design a custom webpage/course header
create a speaking avatar
produce an animated course welcome
Tool Time Tea Break at 3:30pm and 4:00pm. Session lasts 30 minutes.  In three 10 minute sessions you can:
transform a quiz from a Word doc into a Canvas test bank
make an end-of-course greeting
create a course navigation screencast
Wednesday, November 12
"Adapting to Competency-Based Learning"  Webinar
Presented by: Andy Caldwell, ProctorU
2:30pm-3:30pm
Bailey 114
Existing assessment models have remained suspended in a traditional framework and have not kept pace with the high-tech environments that distance learners currently enjoy. Competency-based education will disrupt traditional models through a self-paced approach that meets the needs of nontraditional students seeking skills for a worldwide workforce.  Come join us for this interesting discussion! Sponsor: United States Distance Learning Association
 Thursday, November 13
"Adding Game Elements to Online Courses: It's Not That Hard!" Webinar
Presented by: Josef Varga, Michael Anderson, Marcela Ramirez (University of Texas at San Antonio)
8:30am-9:30am
Bailey 114
A common misperception among faculty members is that quality online courses must utilize small student-instructor ratios in order to compensate for the absence of face to face feedback. This session dispels that myth by suggesting a course design that provides scalability and engagement through the incorporation of game-based strategies. Come learn three strategies for easily adding game elements to your online course. Sponsor: United States Distance Learning Association
Customizing the Template for Student Success
In this "teacher talk", participants will install the campus template to their Canvas 2014 shells and discover how customizing the file can facilitate student success in course completion. Hear what we learned from students and view samples from some of the 2014 Connected Educators at Delta State. Connected Educators -2014 winner Melody Fortune (College of Business) and 2014 nominee Emily Newman (School of Nursing) will be on hand to share tips and their experiences using tools to connect with students. Decide what customizations will most benefit your students and begin constructing your course.
**rescheduled – 11/19**
Friday, November 14
Fast Forward to Spring Workshops
Faculty Mini ME WebSites
In time for the Spring semester, create an About Me web site to place in your course and develop a lesson plan to use this free tool as a career development exercise or as a course introduction activity to engage new students.
9:00am-9:45am, 2:30pm-3:15pm
Bailey 114
Course Intro 101
Build your course orientation for distance students so that they can get started on the path to success prior to starting the class. Receive an orientation guide and pre-built modules and tools to make the Get Started button function more meaningful and productive.
10:30am-11:00am, 1:30pm-2:00pm
Bailey 114
 Please complete the form below to register.