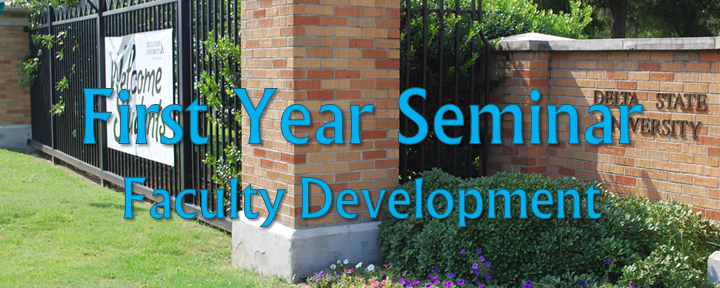 2014 First Year Seminar Instructor Training
All First Year Seminar Instructors planning to teach the course in fall 2014 are required to participate in one training session. There will be four sessions conducted in July and August. Each of these sessions will run from 8:00am to 4:00pm.  If you have questions, please contact the Director of the First Year Seminar,  Dr. Ethan Schmidt at eschmidt@deltastate.edu.
Below is the training schedule with dates and times.  All sessions will be held in Ewing Hall 238.
Monday, July 21

8:00am-11:00am Training
11:00am-1:00pm Lunch Break
1:00pm-4:00pm Training

Thursday, July 24

8:00am-11:00am Training
11:00am-1:00pm Lunch Break
1:00pm-4:00pm Training

Wednesday, July 30

8:00am-11:00am Training
11:00am-1:00pm Lunch Break
1:00pm-4:00pm Training

Monday, August 11

8:00am-11:00am Training




11:00am-1:00pm Lunch Break




1:00pm-4:00pm Training
Please register by submitting the form below: