Staff Council Employee of the Month
July 2014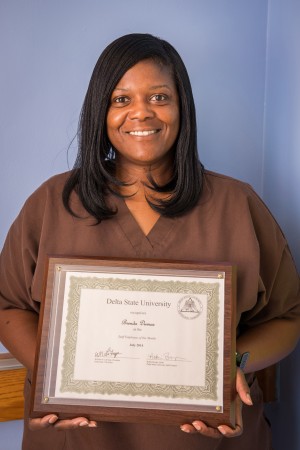 Brenda Dumas
The Delta State University Staff Council recently honored Brenda Dumas as the July 2014 Employee of the Month. Dumas, teacher of four-year-olds at Delta State's Hamilton-White Child Development Center, has taught at the center for 19 years.
Dumas is a Delta State graduate of 1995. She majored in child development and has worked with four-year-olds her entire career at Hamilton-White. Originally from Sallis, Miss., she now resides in Shelby with her husband.
She enjoys travel, old television shows, hosting family reunions and hanging out with her husband and two sisters. Dumas is a member of the New Bethel African Methodist Episcopal Church in Shelby, where is is president of the Women's Missionary Society and Young Peoples Department.
"I love working with four-year-olds," said Dumas. "The biggest highlight is when they come back to visit and I can see how they're doing."